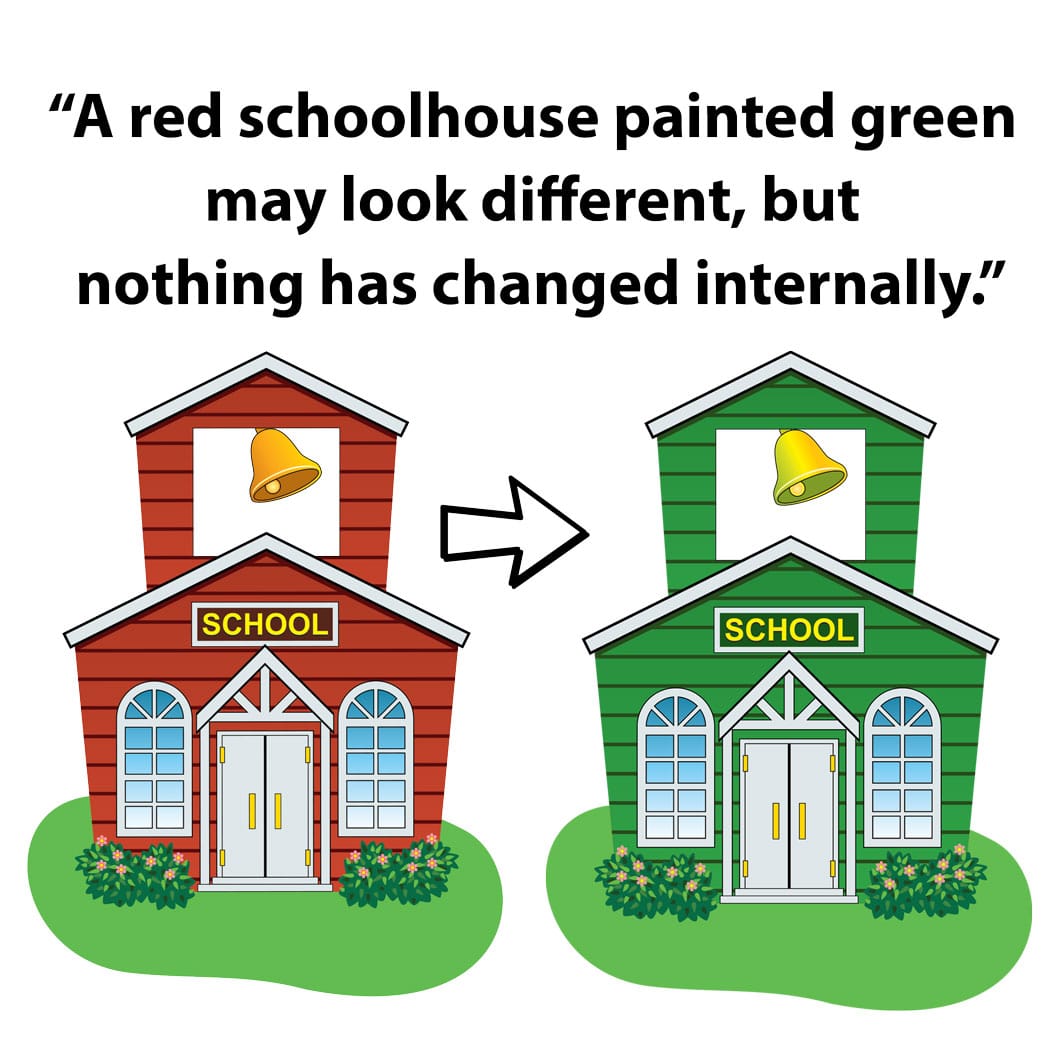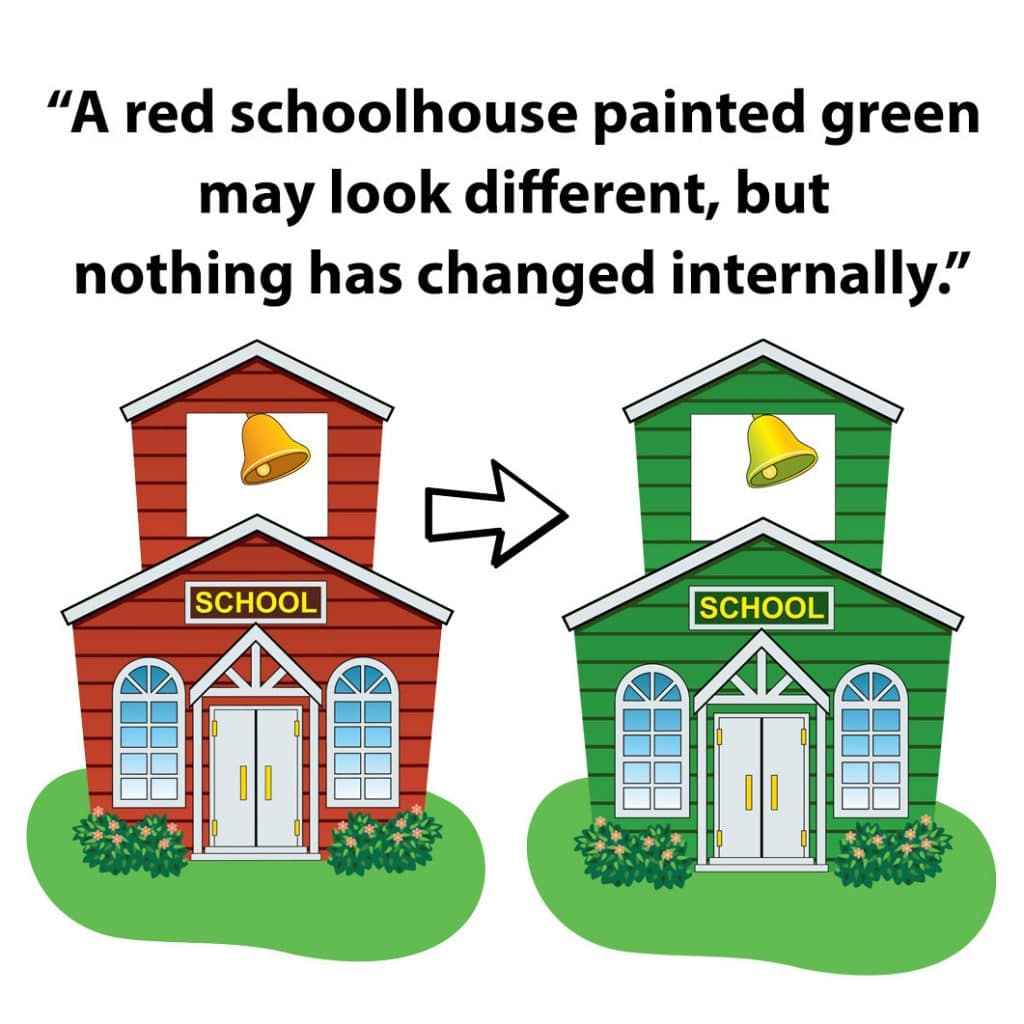 People often say change is good. We have all heard that the only constant is change. Yet, when I look at our profession, the only change I see is surface change. For example, changing the schedule of a school, or a new seating arrangement, or new PE equipment, or a different way of grading or assessment. The heart and soul of a school stays the same while we paint the outside of the school a different color. A red schoolhouse painted green may look different, but nothing has changed internally.
Teachers who have taught several years have heard it before – what goes around comes around. In other words, we did that 20 years ago and now we are trying it again. Charter schools were supposed to come in and develop new and different methods of teaching and learning. Yet, when they are examined closely, most of them use much of the same technology and instructional methods. Often, charter school results occur because of selectively admitting certain students that fit their desired standards.
The question is, why not?
Let's look specifically at physical education. If there hasn't been much change in our profession, the question is why not? Are we focused on expending the least amount of energy by maintaining the status quo? I wonder if most of our profession is hoping everything will stay the same. Are we just painting the outside of the schoolhouse by introducing a new game, a new piece of equipment, and a new fitness routine? Is the schoolhouse still the same inside as it has always been?
COVID-19 is here and it has forced us to teach differently
Where am I headed with all this? I don't think most people will change until there is forced change. Think about it. Many teachers are still playing games and sports. This approach was developed during WWI to train soldiers and, in turn, adopted by schools. Today, we still deal with "What game should I play today," and call it a physical education program. We talk much about lifetime activity, but the program looks the same. COVID-19 is here and it has forced us to teach a different type of program because there is no choice. It is sink or swim and going forward it may be job or no job. After elementary school, we seldom teach all students. Maybe it is time to reach out to the students who opt out of physical education. Maybe we should be online for students who don't like group activities, are overweight, lack coordination, or are fearful of getting hurt.
It all boils down to change. Change is fueled by emotion not by rational thinking. Think about all the things people know about their health but choose not to change. A major emotion that drives change is fear of losing what we have. Right now, we are fearful of losing our job, our income, and our profession. If we are going to change, we are going to need a strong desire to make our program meaningful and important. Are you going to spend all your energy protecting what you have or on building a new and more meaningful program? Successful people take control and know where they are going. They are courageous and willing to take some risks.
You must want to change. You must want to create a better program, help more students, and become an integral part of the school. Internally, it must be a desire that is personal and important to you. You will need to create personal change first and professional change second. You will have to couple your emotion with determination and grit. Grit is long term effort filled with repetition and refinement. People with grit know where they are going, they accept its going to be a long-term effort, and they are willing to stay the course.
I personally think we are in a time of forced change. Maybe we won't have the opportunity to resist change. Many things will place a different spin on our profession. It is a perfect time to make your program one that benefits all students; gives all of them the keys to lifetime activity. More of the program must be delivered online and students must receive health counseling. I leave you with this thought: In most cases, current teachers do not lose their jobs, they retire. Whether new teachers will be hired to fill those openings will depend on whether administrators feel the PE program is necessary. Hiring new physical educators will depend on the current quality of the program. Assure the future of physical education by reaching out to all students regardless of their ability and interest. The future is now.