A climbing wall is such a wonderful addition to my PE program. Have a wall and get stuck on what to do? Wondering if a climbing wall is a good investment for your program? Let me share a few of the ways my students climb!
Climbing Activities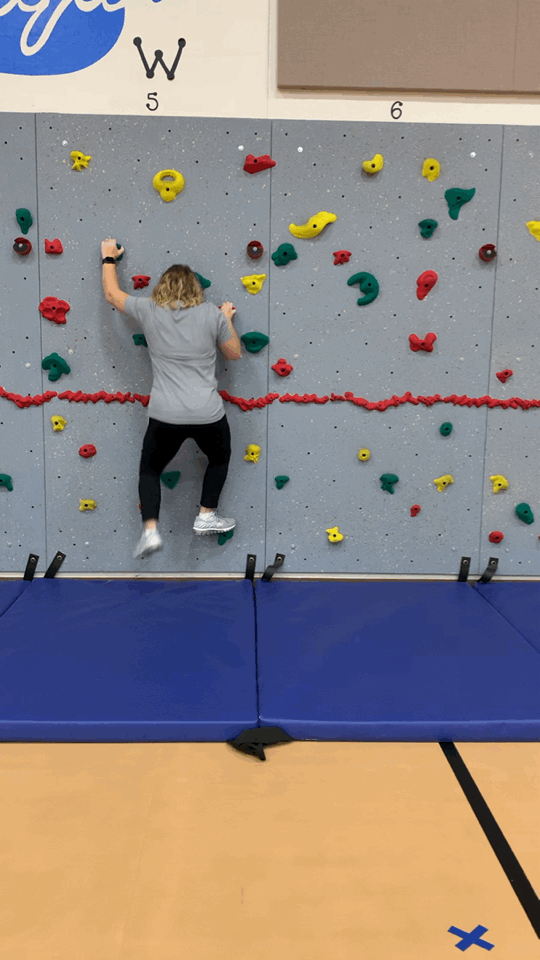 Climbing is a Puzzle – Climbing is such a wonderful skill. It not only works upper body strength and grip but I tell my students that it's like a puzzle. Climbing up is one skill and climbing down is another. It takes both skills to climb. So fun!
Vertical Climb – I have 8 panels in my gym and numbered each one. So when I introduce climbing to my Kindergarteners, I tell them that they can climb up and climb down each panel. It's like having 8 different pathways. It's a perfect way to get students comfortable with how climbing feels and build their self confidence.
Lego Climb – A lego climb is like it sounds. Climb up, Climb over, Climb down. You can move left or move right. A wonderful second level for climbing.
Halfway Climb – Have students start in the middle of the wall and climb one direction or the other. That way they are only climbing across half the wall.
How to use climbing. After you have taught the different types of climbs to your students, use your wall as much as possible. The climbing wall is a perfect station activity, or use it as a reward during an activity. If you score this many points, go climb the wall, and come back to do it again.
Climbing Safety: Climbing can be fun but you must keep students safe!
When climbing, there are hand holds for your hands and foot holds for your feet. The students' feet must never go above the red safety line. If it happens, give them a reminder. If it happens again, they can come speak with you and watch to see how to climb safely.
When I introduce climbing, vertical climbing is the first to teach. So with 8 panels, I allow 8 students to be climbing at a time with the rest of the students waiting on the gym floor to go next. When one person climbs down, the next person in line can start climbing.
If they are climbing in a station, again one person per panel. If you are climbing across, once the person in front of you has gone to the next panel, you can continue. This helps with personal space and for students to not feel rushed.
How do you integrate your climbing wall into your lessons? Continue the conversation and share your ideas in the comment section below!
Related Articles:
– Create a Parkour Lesson in 3 Easy Steps!
– Learning Moves & Patterns for Fitness Drumming in PE
– The Role of Pedometers in Physical Education

Related Equipment: