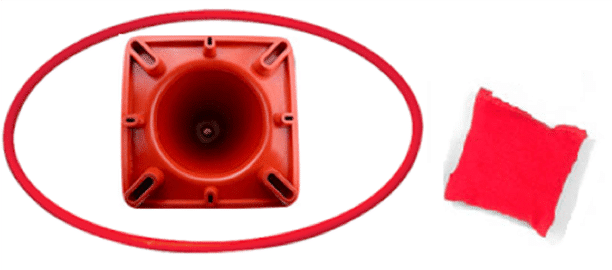 Corn hole is a classic lawn game in which players take turns underhand throwing bean bags on to a raised board that has a hole in the end to score points. It is usually played recreationally at parties, tailgates, and cookouts. As physical educators, it is our jobs to provide students with the skills necessary to be physically literate individuals. Teaching corn hole in physical education can provide students with the confidence, as well as the physical competence, to participate in a game of corn hole outside of school.
The problem that most physical educators encounter when wanting to teach the game of corn hole to their students is the lack of enough corn hole boards, or no corn hole boards at all. For many, this dilemma can result in one of two things: not teaching the activity at all or improvising and finding a way to make it work.
I created the game of CONE hole to provide my students ample opportunities to practice the skill of underhand throwing. Instead of using corn hole boards, I have my students toss towards a cone that is lying flat inside of a hula hoop. I also added a running portion to the activity after each toss to increase movement opportunities and assist them with keeping up with points.
CONE Hole Set up:
Divide students into teams of two. Each team has a hula hoop and a cone lying flat inside the hoop. Across from each team is its opponent with the same hula hoop and cone setup. Distribute one bean bag for every two teams. Behind each team's hoop should be a bucket with eight noodle bits inside.
How to play CONE Hole:
On the teacher's signal, students begin tossing the beanbag back and forth toward the opponent's cone, attempting to land the beanbag inside the cone or inside the hula hoop. If the beanbag lands inside the cone, then the student who tossed it runs and retrieves 3 noodle bits (points) from the opposing teams bucket. If the beanbag lands in the hoop, the student who tossed it runs and retrieves one noodle bit from the opposing team's bucket.
Click here to watch the CONE hole video.
Summary
CONE Hole is an extremely fun activity that allows students to receive a ton of practice throwing underhand, while also allowing students to move. It teaches students the rules of a classic lawn game and allows the teacher to assess the underhand throwing pattern and provide feedback to students.
Follow me on Twitter @MikemorrisPE or visit my website www.mikemorrispe.com for more physical education activities and resources.