As highlighted in an earlier post, all school staff members have opportunities to foster a love of learning through literacy or reading. Physical education teachers are role models and often build meaningful relationships with all students. Incorporating reading in PE with stories and children's books provides an avenue to encourage creativity through movement, dance, and social interaction.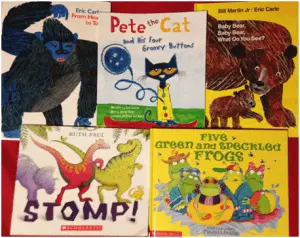 Years ago I listened to an outstanding professional at the Illinois Association of Health, Physical Education, Recreation, and Dance annual conference. This master teacher shared with us one of my favorite activities to do each year during reading month, on Dr. Seuss' birthday, or whenever you need a quick 5-minute warm up.
Each year, I read the book My Many Colored Days, by Dr. Seuss to students in grades K-2. It is a very short book with beautifully colored images, and only takes a few minutes to read! The first time I read it to the students, I do not provide any additional directions other than listening. After I finish, I explain to the children that we are going to use the story to move around the gym. I flip through the pages again and ask students to share what the emotions, moods, and images might look like if we were to act them out. Finally, I ask students to find safe space and have them prepare to listen to the story again while acting out each emotion through creative play. I loudly read the story and pause before turning the page to allow for students to think and move. Students are led throughout the book to be horses, birds, bees, and more. The creativity comes alive with each child's own interpretation of the mood and animal.
Listen or watch the story.
Early elementary students love the opportunity to blend books and stories into movement! It is no different than using music to lead movement and often will leave more to the imagination. I encourage you to always read the book at least once before starting the activity if you have not read it to them previously.
Here are a few other examples of books to use, as well as quick outlines of activity ideas:
The bottom line is that there is no "one-way" to blend literacy and movement. You can keep it simple by introducing one book each month to a class, or a bit more complex by increasing the frequency to multiple times a month. Students love both reading and movement, and like mint and chocolate, it just works.