DynamicPEASAP.com is designed as a time-saving, adaptable way for teachers to create their own lesson plans. No lesson plan is complete without an efficient, useful standards-based, grade level outcome driven assessment. This video provides an overview of the formative assessments provided in the curriculum. Visit my other blog on Dynamic PE ASAP for an in-depth look at the free curriculum.
DynamicPEASAP.com is a diverse curriculum addressing many outcomes. For this reason, a many types of assessments are provided. The intent is to demonstrate several strategies and methods of assessment to give teachers a turnkey, ready to go assessment per lesson. Teachers also have models of other types of assessments they can create if desired. This variety allows teachers to adapt their assessments based on their available technology and resources.
DynamicPEASAP.com offers more than 100 assessments addressing over 100 grade level outcomes based on SHAPE National Standards and written especially for this curriculum. Throughout the curriculum, the following six types of assessment are used.
Teacher Questioning for Understanding
Teacher Questioning is an excellent strategy to probe student understanding and provide time for student reflection. Teacher Questioning (TQ) assessments are developed to assist teachers in prompting students to reflect about a specific concept or lesson purpose. The questions are intended to be modified by the teacher to fit their needs and adapt to the nature of the discussion.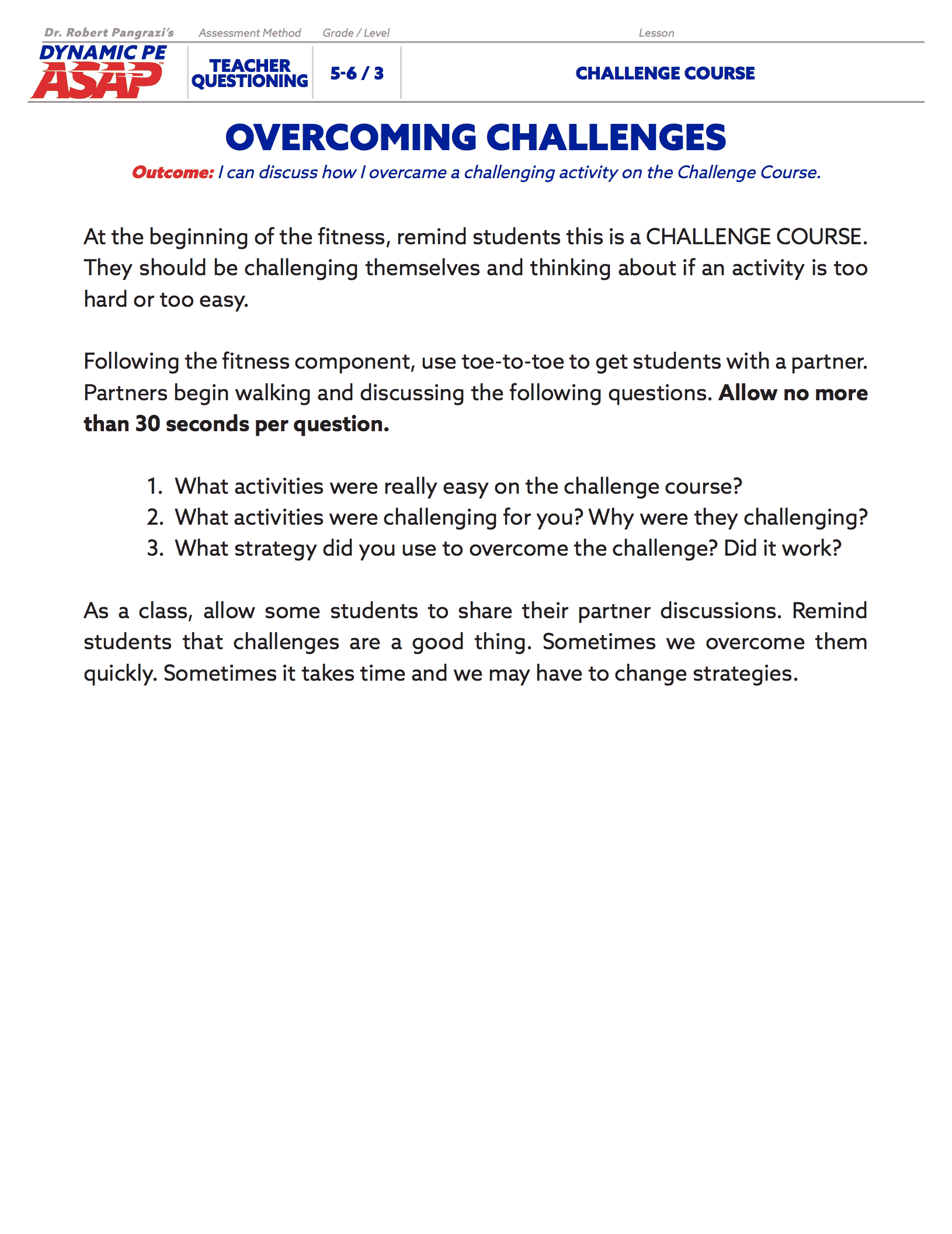 Teacher Checklist for Observation
Teacher Checklists are designed to help teachers efficiently observe student performance. These assessments are process based in that they emphasize student demonstration of performance cues taught by the teacher. That is, can the student perform the cues for throwing rather than throw to hit a target? To this end, the outcomes that accompany the assessments are focused on the performance cues. Teachers are encouraged to modify the TCs provided to include their own cues if needed.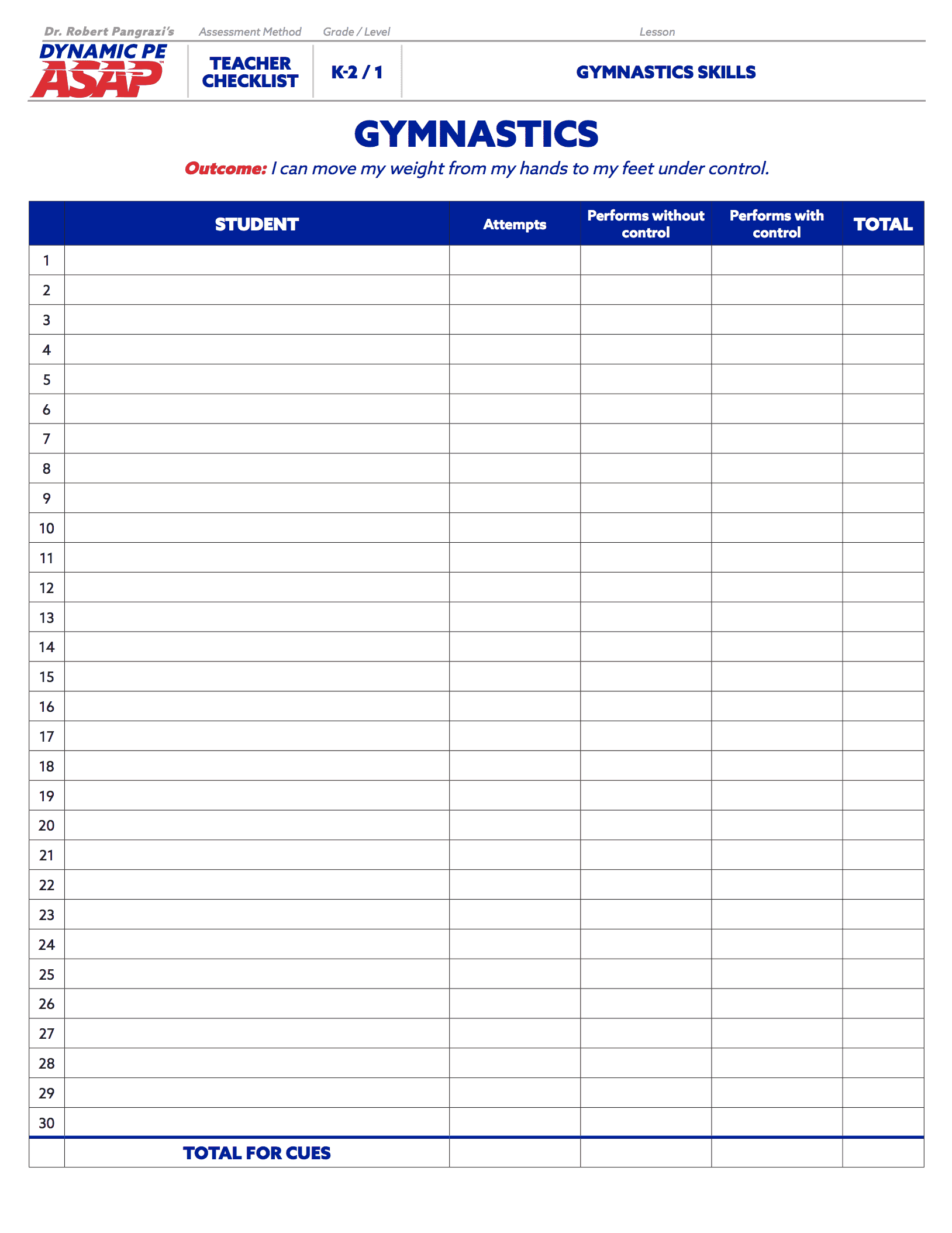 Self-Assessment
Self-Assessments are great formative assessment tools and they give students the chance to take ownership of their learning by assessing themselves. Self-Assessments (SA) are used to give students the opportunity to assess their own skills, knowledge, attitude, behavior, or effort. Many SA tools use a DPE exclusive scheme designed to reinforce the learning process. In this scheme the following terms are used: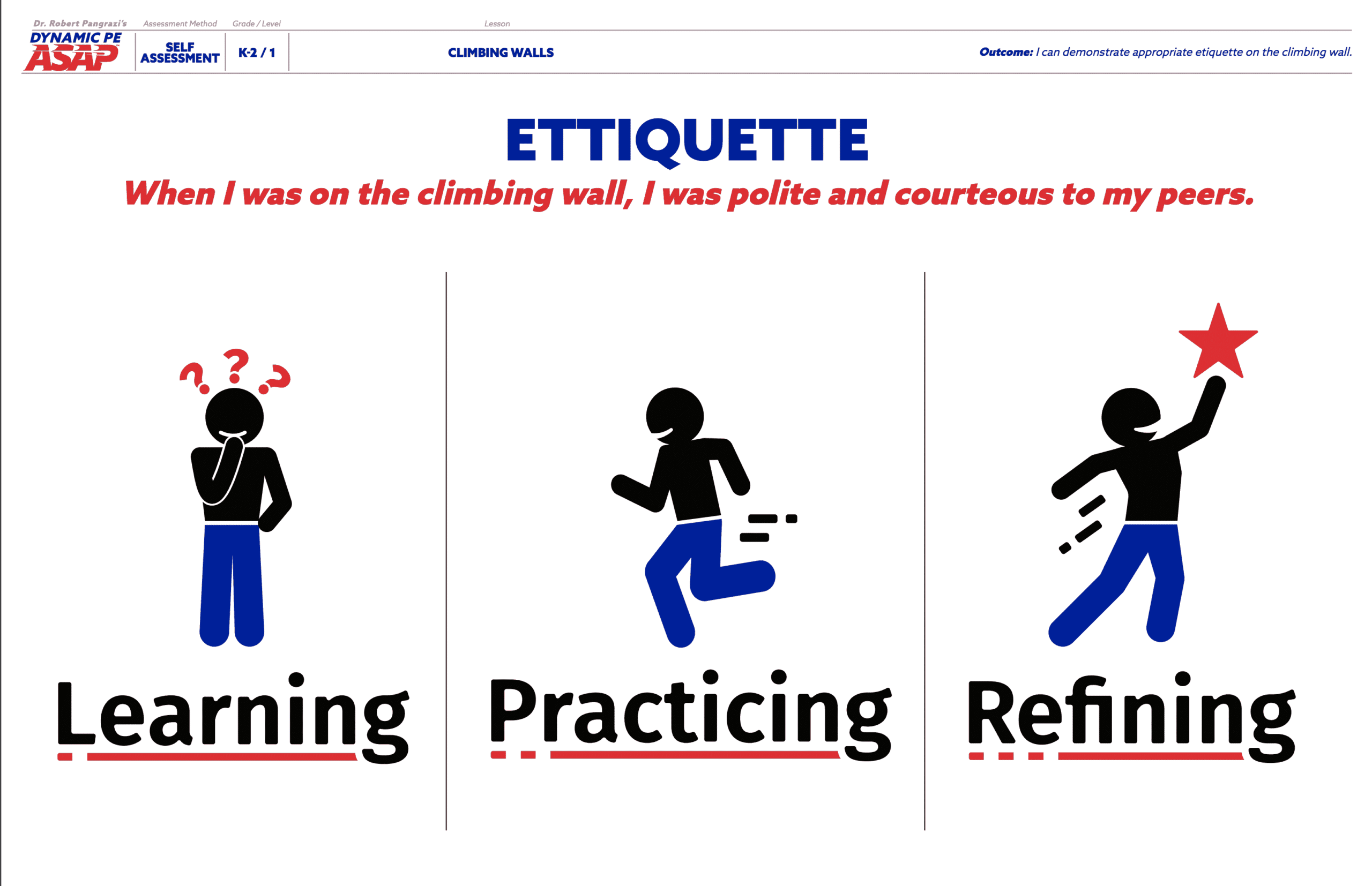 Learning –This describes a student who has just been introduced to a skill or concept. Some might say this is a beginner level. It is important to note and to let students know, this is not a "negative level". This is simply where everyone starts in the learning process.
Practicing – This describes a student who is beginning to refine a skill or advance in understanding of a concept. This indicates a student has made progress but is still progressing.
Refining – This describes a student who is making refinements to their performance and may be ready for additional challenges. While the student has made great progress, it is important to emphasize this does not suggest the end of the learning process. This teaches students that learning is an ongoing process or cycle.
This sequence is important because it reinforces that as students of any skill or concept, we are never "done". Learning is an ongoing process with skills and knowledge constantly being polished. Throughout life, skill or knowledge acquisition requires progressing through learning, to practicing, to refining in a cyclical fashion. Learning that early during Physical Education will help enhance student experiences
This scheme can be used as a written assessment where the student circles the term that best describes his/her performance for the outcome. Another approach is to create posters of each term to place on a wall, typically near the door students exit. When leaving the teaching space, students "high five" the term that best describes their performance on the outcome that day. Finally, teachers could have students face away from the teacher with their hand behind their back. Students then evaluate themselves using a 1 – Learning, 2 – Practicing, or 3 – Refining with fingers to show their self-assessment.
Peer Assessment
Peer Assessments let students showcase their learning in multiple ways. One, the peer who is assessing must demonstrate a grasp of the concept being assessed. Two, the peer being observed has the opportunity demonstrate his/her learning as well. Third, in this experience, students must learn how to give and receive feedback from a peer. DynamicPEASAP.com peer assessments are in the form of a process-based checklist or a "walkie talkie" peer discussion while walking.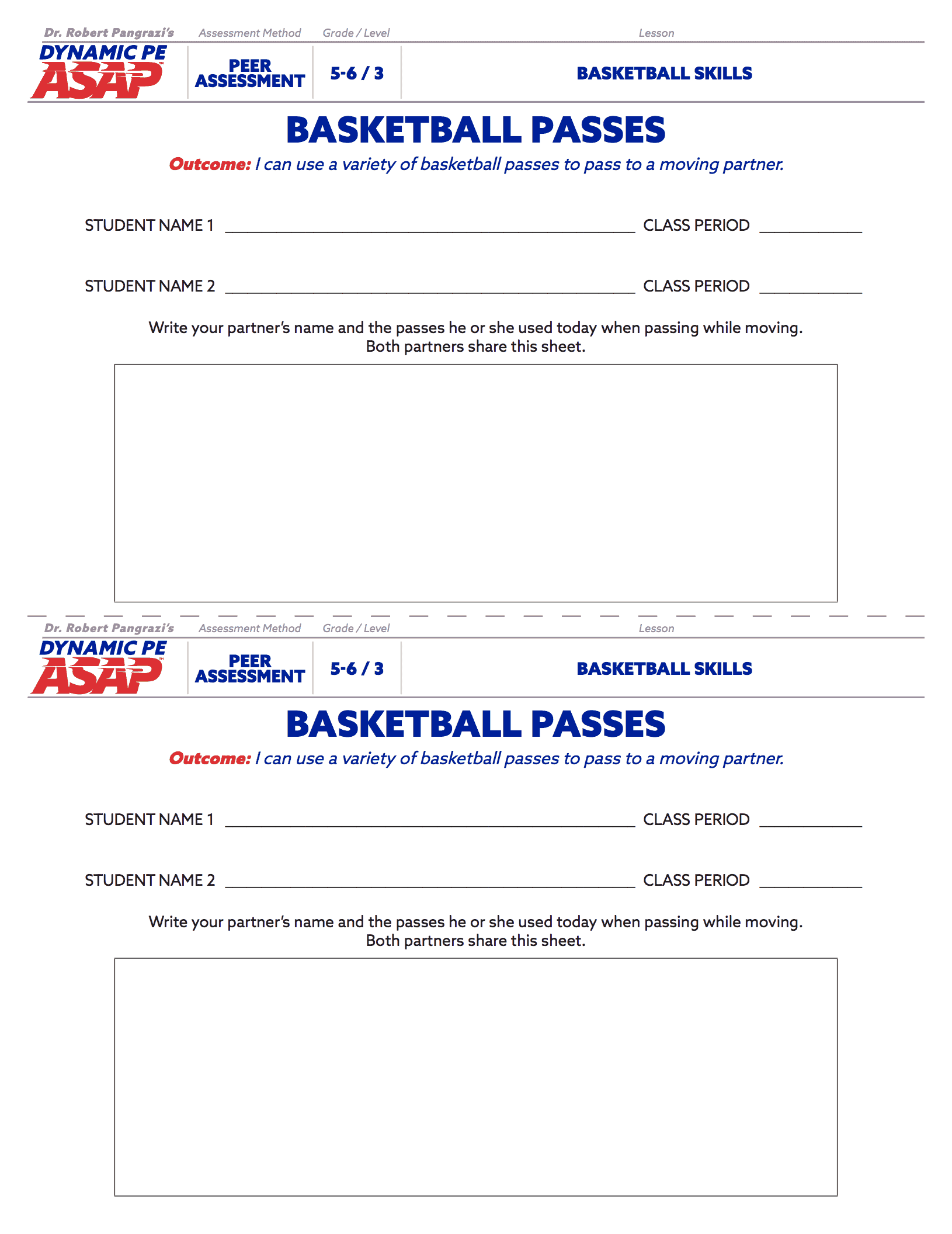 Written Exit Slips for Reflection
Written Exit Slips are designed for efficiency and reflection. Regardless of the protocol established by the teacher, following an activity, students quickly retrieve the necessary equipment and quickly complete the Exit Slip. These slips assess learning via short answer or multiple-choice items. Alternatives to paper/pencil assessments include apps such as Plickers and projecting items on a large screen for students to answer via movements (e.g. A = Jumping Jacks, B = Hop in place, C = Frankensteins, D = Sprinklers).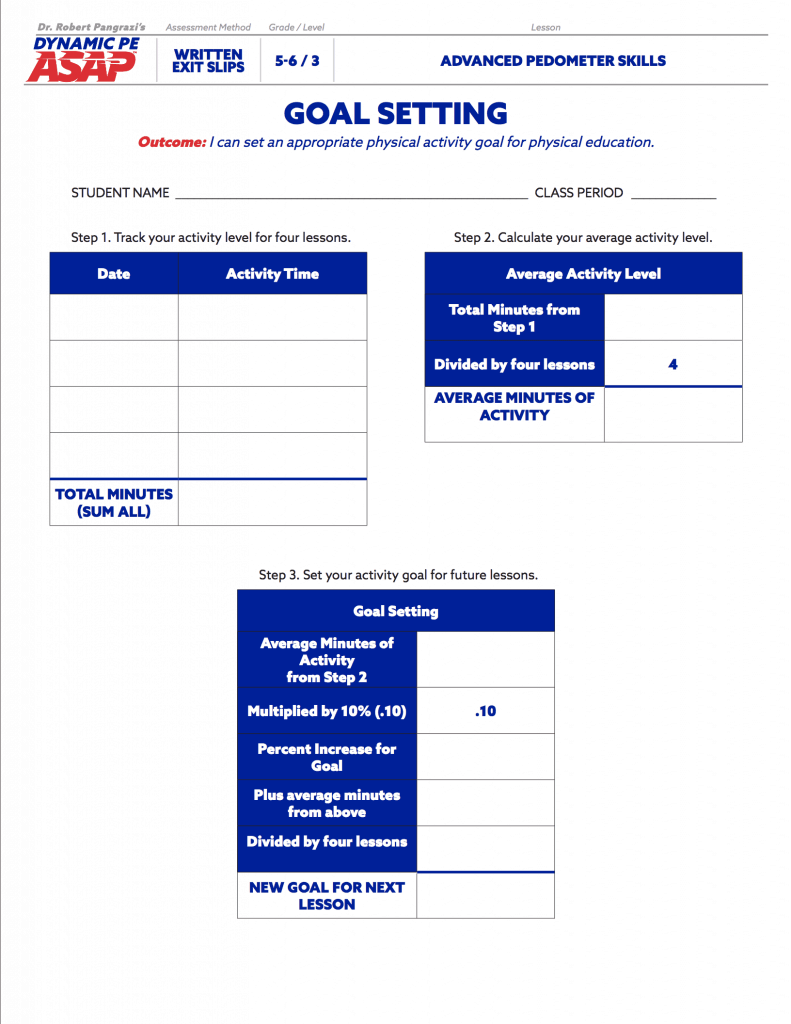 Bike Rack for Assessing Understanding
Bike Rack assessments are an efficient strategy for assessing student understanding. These formative assessments provide an allocated space for students to share their learning. This space can be as simple as a piece of paper for reflection and brainstorming, a whiteboard at a station to address a specific question, or a wall with Post-it notes for students to share their learning/experiences.