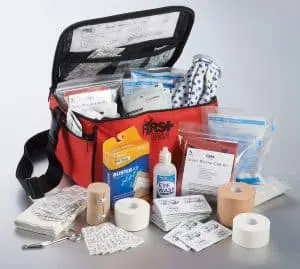 Have you ever wondered, as physical educators, what influence we have in contributing to the health and medical fields and professions? As physical educators we teach our students many topics such as: dental hygiene, nutrition, drug and disease prevention, functions of the body systems, solutions to resolve conflict and how to report emergencies. When we educate these students, we give back to our health and medical care communities in ways we may not realize. The reason I decided to share this topic is because we never know who will be the next surgeon, anesthesiologist, nurse, EMT or pharmacist. I will share two short stories I have experienced that show the impact that teaching these topics has on students.
1. We Are Teaching Tomorrow's Leaders
My colleague has been working for many years at the same school in the same profession. He taught Health lessons on Thursdays to students during his physical education class. One time he drew a colorful heart and went over the functions of the heart. The students were intrigued and kept asking questions and he kept giving them answers. Well, two years ago my colleague ended up in the emergency room and underwent triple bypass heart surgery. To his surprise, waking up groggy and in pain a male nurse asked him, "Are you Coach Garcia?" My colleague didn't have his glasses on and responded, "Yes. Why do you ask?" The male nurse responded, "You were my Coach a long time ago". My colleague laughed and said, "So, what are you doing here?" The male nurse responded, "My favorite part of physical education (PE) was Thursdays Health class- I loved all of your drawings."
2. Life Lessons That Students NEED to Know
I teach first aid basics such as how to handle nosebleeds, cuts, bruises, burns, and how to dial 9-1-1. I love to role-play scenario's with the other coaches at my school. We go all out by use different props, glue paint, makeup to mimic burns, bruises, and abrasions. We also use the siren on our megaphones and bring dollar store phones to use for calling 9-1-1. The students love all the acting yet, we explain that these are real life situations and we must react quickly to save lives. We get standing ovations from the students and they always ask us when is the next first aid scenario will be.
I have two memorable moments that I would love to share with everyone because we always have an impact of students' lives. One is when I taught a health lesson about how to call 9-1-1. The next day a teacher brings a copy of a newspaper clipping that I have laminated and use as a reference. One of my students, while waiting in the car for his mother, saw an elderly lady get attacked by a swarm of bees when a beehive fell to the ground. He called 9-1-1 using his mothers cell phone and was able to get the ambulance and fire department there within minutes. The lady survived. My second memorable moment was when I walked into the hospital cafeteria while visiting my grandmother. A young man in scrubs approached me and said, "Excuse me. Are you Coach Armendariz?" I replied, "Yes, why do you ask?". He said, "I am working in the ER as a nurse". He then mentioned that he really enjoyed when I taught the summer enrichment courses about first aid. His goal is to be a doctor in the emergency room at that hospital and he thanked me for introducing him to that profession.