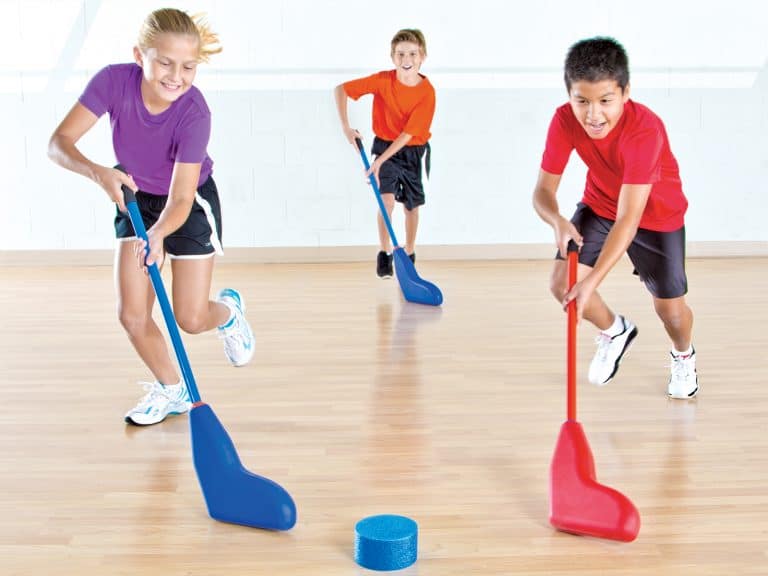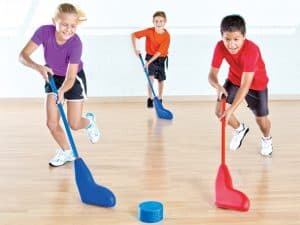 Floor Hockey is one of our most popular units; the kids love to play it in the winter in the gym. At our school, we teach floor hockey fundamentals in a fitness-oriented fashion that's fun, yet educational for students.
In my own system of categorizing games and activities, floor hockey falls into the "Time & Space" category. It is similar to soccer, lacrosse, field hockey, and other team sports that you might be seeing less of in PE classes, but it really can be stimulating to students from a cognitive and physical perspective if introduced and taught progressively. Time & Space is a concept that we try to introduce in all of our team sports where we stress creating it on offense and denying it on defense. This recurring theme helps us challenge our students from a cognitive, physical, and spectator perspective, as we refer to all three often.
Floor Hockey has different variations, and as a PE Teacher you should not feel obligated to simply play the traditional version. Here are a few tips to demonstrate how we introduce and then play floor hockey in a more fitness-orientated fashion that is fun for our students.
Floor Hockey Introduction
I suggest launching the unit by covering the origin of floor hockey. Then move into a quick, yet thorough, explanation of fundamental skills and scoring, followed by a quick demonstration. Once you've built the basic cerebral understanding, it is "Game On!", with very little standing around.
This is where the fitness component enters the picture. We run all sorts of lines, gauntlets, obstacle courses, and relays where the students are dribbling the ball/puck at all times. We keep everyone as mobile as possible to increase movement and decrease the feeling that they are being observed by their peers, this usually works very well. Be as creative as possible and certainly have fun with creating these mobile "Skill & Drill" sessions!
Offensive and Defensive Floor Hockey Strategy
After a few classes of "fitness" stick work, we then break the game down into the offensive and defensive situations by playing small-sided games that are dependent on your class roster numbers. If you can utilize your full gym and keep most of the kids moving, then I'd go with that version. If you need to segment your gym into multiple small courts then I'd get creative and go that route. We encourage everyone to play goalie and we do mandate that they wear a provided face mask.
Game ideas:
Round Robin Tournament
Tournament Bracket
King of the Court
The key here is to keep the winnable score to a low number. For example, the first team to score 2 goals wins and then you rotate teams in and out quickly. If you can do this on multiple courts the kids get a great workout and learn to play the sport too. Your creativity as an instructor will be important to making the activity enjoyable and fun for your students.
Floor Hockey Tournaments
Once the majority of students demonstrate an understanding and can play the game, we move into tournament mode. Students are placed into teams and select a team name. Set up a board for each class/period and list the games using the team names (the students love this)!
I suggest using the double-round robin and move teams along accordingly. Reserve 1 or 2 courts for the eliminated teams to play recreationally.
Fitness Tip: One artificial expectation or rule that you can implement to increase fitness is that no one is allowed to stand still, every player must always be moving back and forth at all times.
Creativity and energy are the crucial factors to making a floor hockey unit work. Your students will respond to your enthusiasm and expectations! Give it a shot, pun intended! Check back in and let us know how it goes. We'd love to help you build your floor hockey unit for your school and students.
Additional Resources:
Floor Hockey Equipment
Of course, you need floor hockey sticks, pucks and goals to start this unit. If you don't have any floor hockey goals, try using tape on the wall. You can buy a number of different floor hockey pucks or balls designed specifically for indoor floor hockey or you can use tennis balls to get started. I would recommend purchasing a few face masks and some cleaning wipes to clean them in class and between classes.