"5 laps around the gym – Go!"
Is this a familiar command you recall when you entered the gymnasium for your Physical Education class in elementary school? Did it make you excited to take part in PE? Or, did it raise anxiety and/or boredom as you dreaded the same old routine to start the PE lesson? If you answered the later, a common response, it may have led to a negative attitude towards physical activity, perhaps even a disengagement in PE because it wasn't fun, enjoyable, and varied in its approach.
Everyone should be able to associate physical activity as a fun, enjoyable experience and a necessary component of everyday life.
With only 9% of Canadians kids aged 5 to 17 achieving 60 minutes of heart pumping exercise daily, and similar statistics in the United States, we need to change the way we get kids moving in PE and throughout the school day through fun games and activities. (ParticipACTION Report Card on Physical Activity for Children and Youth, 2015)
Have you ever thought about "gamifying" your approach to teaching fundamental movement skills, personal fitness, and interpersonal skills? Developing more movement vocabulary and physical literacy opens up a gateway to active participation for life.
To "gamify" something means to turn an activity or task, such as physical activity, into a game or something resembling a game; usually making the activity more interesting. Here is an example gamifying a common paper and pencil game such as Tic Tac Toe into a dynamic warm up for a PE lesson.
This game combines components of fitness such as speed, agility, cardiovascular fitness and problem solving skills. See video example!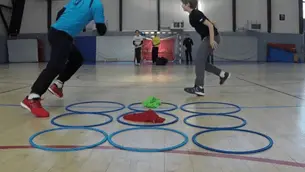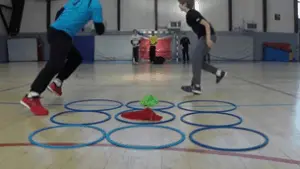 Games in Physical Education
Games permeate every aspect of school PE and can be used as warm-ups or modified instructional tools, as well as taught as complex activities. They enable students of all ages and abilities to achieve a range of core competencies of a quality Health and Physical Education program. Through games students can:
Actively participate in sustained moderate to vigorous physical activity according their abilities and readiness level.
Demonstrate responsibility for their own safety and the safety of others.
Develop a range of movement skills (e.g., stability, locomotion and manipulative), concepts (e.g., body and spatial awareness) and strategies (e.g., rules and boundaries, conventions of fair play) to acquire movement competence and increased physical literacy
Develop personal, interpersonal skills and use critical thinking and problem solving skills.
If games are taught well, students can improve their fitness, learn new skills, cooperate with teammates and challenge their intellect by solving problems of strategy and tactics. If games are taught poorly, students may learn that winning is everything and cheating is a viable strategy.
No doubt, the use of games can increase fun and student enjoyment in PE. Consider planning instruction of games with intent. Create guiding question(s) to frame the learning in a game/activity.
"Why do games have rules?" Ask yourself this if you want to emphasize conventions of fair play, structures of games.
"What makes a good team player?" Ask yourself this if you want to emphasize interpersonal skills and teambuilding skills.
"What skills from this activity can I transfer to another game or sport environment?" Ask yourself this if you want to emphasize the development of movement competence and personal fitness.
Useful Tip: Use novelty type equipment such as a rubber critters or throton, both are non-sport specific throwing objects. This can create a more inclusive learning environment and engage students of all readiness levels and skills to begin with, before progressing into more complex activities.
Here are some fun PE games to get you started:
Everybody Is It
At the start of the game everyone is it and every player tries to tag another player while trying not to be tagged. If tagged, players have to perform a task (e.g., choice of 5 stride jumps, 5 push-ups, 5 sit-ups, 5 tuck jumps) and then return to the game. If players tag each other at the same time both perform a task. Continue for several minutes of fun and movement!
Improves agility and coordination.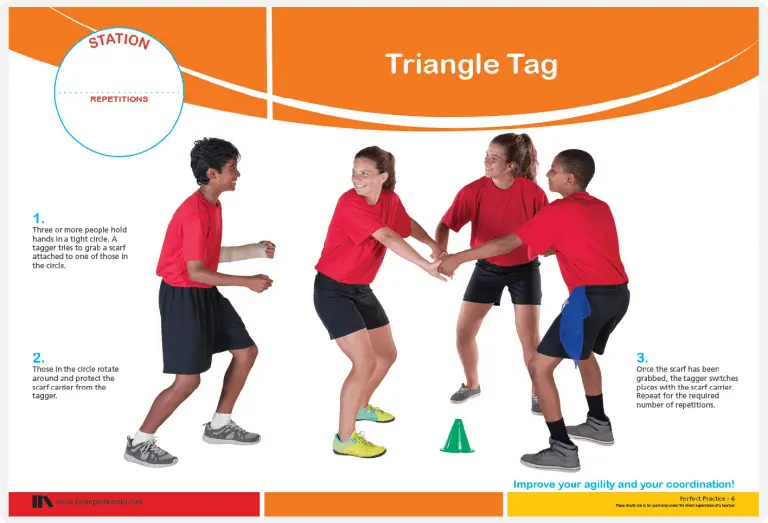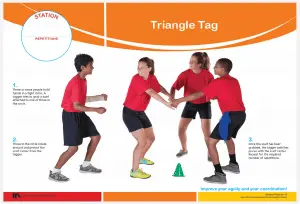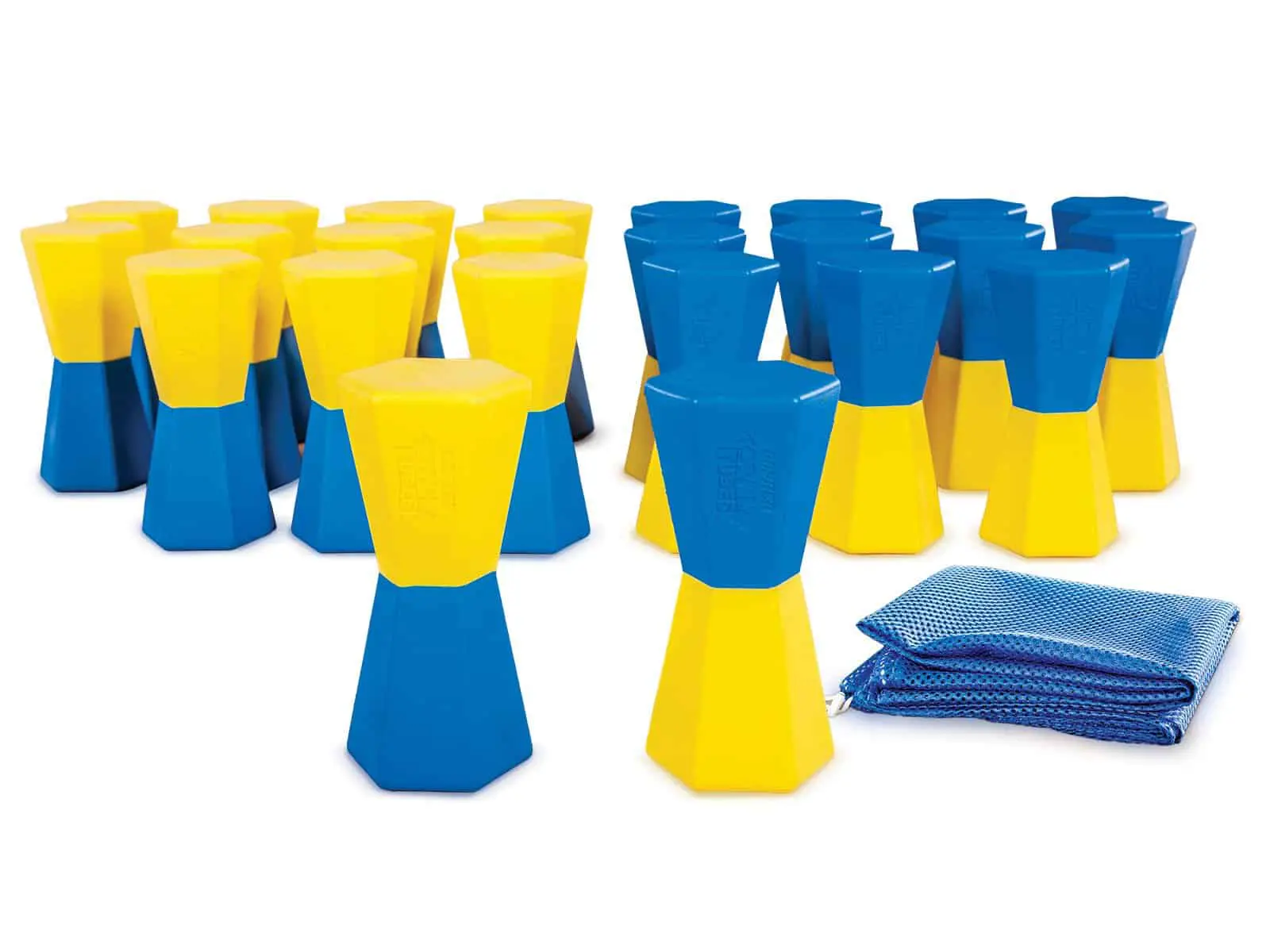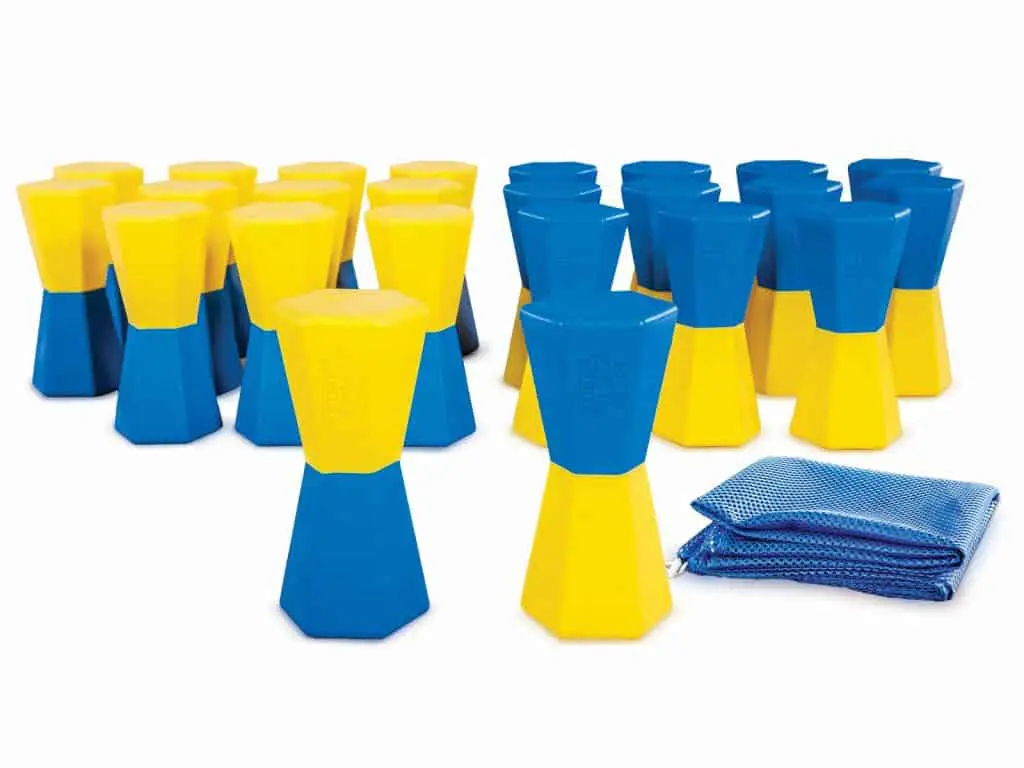 Scatter 20-30 topple tubes (or cones) around the playing area in no particular order or color pattern. Divide the class into 2 teams. On the signal, players race to flip their team's color to the top. If playing with cones players either race to flip the cones to standing upright (builders) or flip cones on their side (bulldozers). Players must only use their hands to flip the tubes or cones, not their feet. Play the game for a period of time and declare the winning team with the most standing tubes in its color "up" or the cones in the assigned position.
Check out Gopher's full selection of ACTION! Team Games! These games are designed to be action-packed, class oriented, teacher friendly, inclusive, and incorporate national standards!
What fun games and activities are in your "PE tool kit" and why?
Be sure to check out my next blog in June featuring a fun filled game called Kin-Ball. It's a game that emphasizes teamwork and develops movement vocabulary such as hand eye coordination, manipulative skills and spatial awareness, all in one!