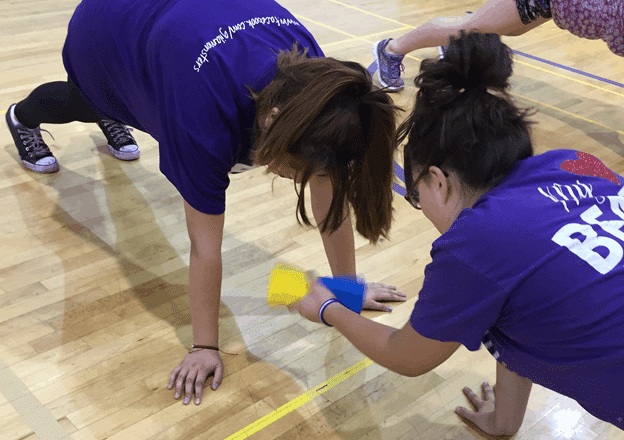 I was looking for a way to spice up my fitness games and activities – something with versatile equipment that could be used for multiple activities. I came across these 2-colored tubes, called Topple Tubes, that seemed like a great fit!
On day one, I played a game where the students flip their team's color up while the music is on and count which team had the most of their color up when the music stops. They LOVED it!!! And I especially loved watching them run around (cardio) and do a bazillion squats (strength) each time they flipped the tube over! Score! See this game in action here.
The next day I played the same game but inserted different locomotor movements and exercises while playing. This also got my students moving and they still loved it!
Fitness Parnter Exercises:



Cardio/Agility Exercises: Be creative! Here's a video of one cardio activity my students did using the tubes.
Squats: Stand side-by-side with partner. Partner A squats and picks up tube from the outside leg and places it in between partner B. Partner B picks it up from the middle and taps in on the ground on their outside leg. Repeat.
Lunges: Face partner. Partner A lunges forward. Flips tube. Partner B goes. Alternate legs
Straight-Leg Dead Lifts: Face partner. Partner A, bends at waist, flips tube, partner B goes.
Push-Ups: Tap chin on tube, flip and place under partner's chin. All while in high plank.
High Planks: Face partner in a high-plank position. Place tube in between each partner. Partner A flips tube. Partner B flips tube. Alternate flipping hand.
Low Planks: Same as high plank but in low stance.
Sit-Ups: Face partner in a sit-up position. Place tube in between feet. Partner A & B both sit up but only Partner A flips the tube. Both go back down. Both sit up again but now Partner B flips the tube.
Russian Twists: Partners sit side-by-side. Place tube on the outside of Partner A. Partner A twists and taps the tube on the floor of each side three times then places the tube in the middle of the two partners. Partner B does the same three twists and returns the tube to the middle.
I am currently working on designing an agility course using the tubes. I like these Topple Tubes because they are sturdy, well balanced, and I really like the size. The uses are endless…you just have to think out of the box. Shop Topple Tubes
Additional Links and Resources: