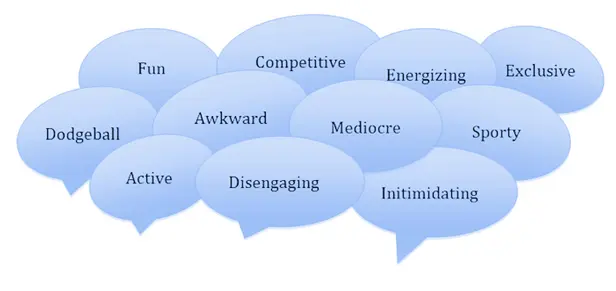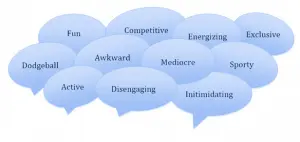 When asked to use one word that describes a personal experience of physical education in elementary school, the responses of my elementary pre-service teachers will range from words similar to the image to the right. Teaching Physical Education includes so much more!
Often their physical education experiences are limited to learning just sport specific skills and the learning environment is very competitive and exclusive. It is not one that creates a positive sense of community or sense of belonging for many students. Yet the goal of physical education is to ensure that all students acquire the knowledge, skills, and attitudes to lead healthy active lives and embody this sense of physical literacy.
Dr. Louise Humbert of University of Saskatchewan suggests that the health of young people depends on physical education teachers making a difference, and I couldn't agree more. Current ways of thinking about and teaching Physical Education may differ significantly from when beginning teachers were students. Which is why one of the aims of my physical education teacher education program is to introduce new ways of thinking about physical education and its role in schools.
At the beginning of the course, I ask my pre-service teachers to think about their previous learning experiences, attitudes and perceptions towards teaching physical education.
Here are some voices of these beginning teachers…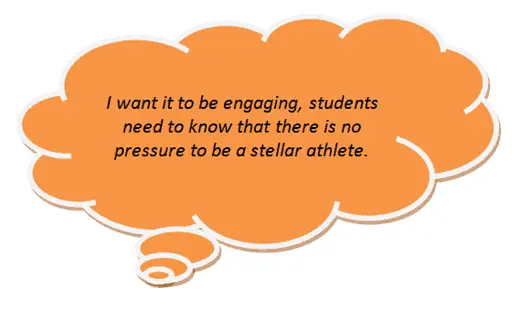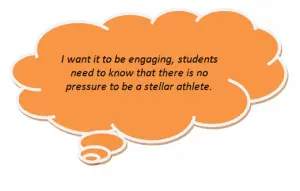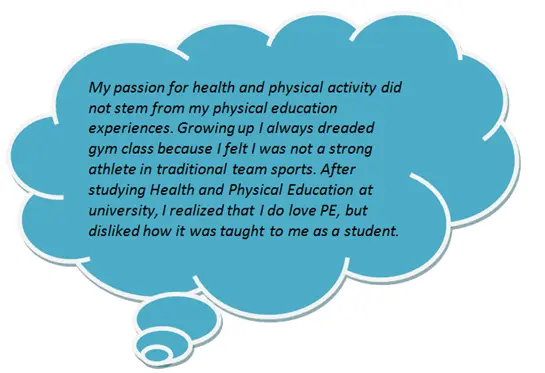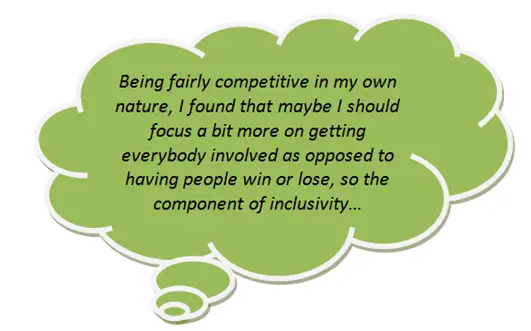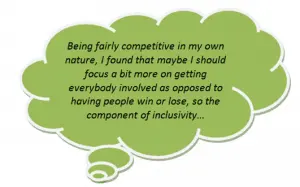 How can we make teaching physical education more engaging and inclusive?
Teaching life skills through physical education, such as, respect of self and others, team building skills, and critical and creative thinking, can create a more inclusive and respectful learning environment in physical education thereby engaging more students in the learning process.
Hellison's Teaching Personal and Social Responsibility (TPSR or Social model) is a curriculum model/theory that I connect the theory to practice for my pre-service teachers. Teaching life skills and social skills in a physical education environment allows for a holistic approach to the students' physical, cognitive and affective growth and development. The TPSR model was first developed as a teaching tool for students identified as; at risk, marginalized and inner city, but was later found to have merit as part of any physical education curriculum (Robinson, D., & Randall, L., 2013). The model emphasizes personal responsibility such as: self control, self-motivation, self-effort and social responsibility such as: respecting others needs and interests, cooperation, and contributing to the well-being of both individuals and others.
Hellison's TPSR model consists of five levels of responsibility:
Respecting the rights and feeling of others – e.g., self control, involvement in peaceful and democratic conflict resolution
Participation and effort – e.g., self motivation, on task
Self-direction – e.g., works independently, appropriate goal setting
Helping others and leadership – e.g., caring and compassion, responsiveness
Outside the gym – e.g., being a role model
The TPSR model is most effective when imbedded throughout the implementation of a physical education program.
I suggest starting the beginning of a physical education program with an emphasis on creating and building a sense of community and active participation in your physical education class that will support teaching life skills throughout the entire school year. Life skills need to be taught not caught!
In the Ontario 2010 Elementary Health and Physical Education curriculum, living skills are learning expectations that are embedded throughout the curriculum. The living skills include:
Personal skills such as self awareness and self monitoring skills
Interpersonal skills such as communication, relationship and social skills
Critical creative thinking – planning, processing, drawing conclusions, reflecting and evaluating
Co-construct the success criteria for active participation and team building skills with the students in your class so that the learning targets are transparent to the students. What will that learning look like, like sound and feel like? Use this as an anchor chart to periodically come back to as a reminder of students' expectations and responsibilities while participating in physical education.
Ready to participate in proper clothing and running shoes
Follows instructions
Participates positively as an individual and in a group setting
Willing to try to new activities
Takes a leadership role
Respects ideas of others
Contributes to group tasks
Shows consideration of others
Treats others equally

Positive encouragement of others
Encourages others to try to new activities
Listens actively to others
Uses appropriate language when talking to others

Works hard – able to monitor effort, aware of heart rate and intensity
Sense of belonging – feels respected by others
Sense of enjoyment
Sense of achievement and success through appropriate goal setting

For games and ideas on teaching life skills check out these tag games and co-operative/team building games:
Robinson, D., & Randall, L. (2013)

Teaching physical education today
Canadian perspectives. Canada: Thompson Educational Publishing Inc. ISBN 978-155077-231-9.