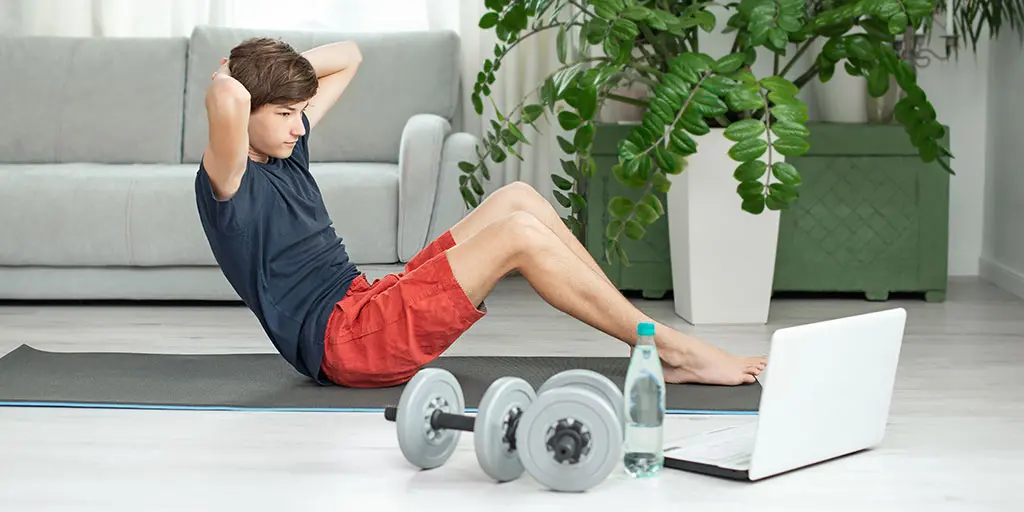 [0:02] Right now, I know many of us are having a really hard time trying to put our lessons and thoughts together when it comes to creating and implementing our virtual or hybrid PE lessons. There are so many different ways on how we can all be teaching our content right now. So today I have a few thoughts and reasons on why I designed my lessons the way that I do.
Plan virtual lessons the same as normal lessons
[0:45] First and foremost, in terms of creating lessons and designing my lesson sequence the way that I do. My biggest reason behind my current lesson development is, I'm approaching my lesson design virtually as best as I can so that, it's mocking what I normally do with my students in my gymnasium and when we're 100% in-person in a non-pandemic setting.
Start with a warm-up
[1:14] So examples of this include all of my virtual lessons will always start with a warm-up or ignite activity where I will project a really unique fun physical activity and then during this process, I'll have my students put on their heart rate monitors and connect them to the HDP home app and I'll participate with my students just like I do in person. This warm-up ignites activity usually lasts about five or six minutes. And then afterward, I'll have my students upload their workouts to me using the app and then hopefully by then I'll explain to my students that I'm hoping they feel better, and I'll explain to them the importance and why they should feel better behind the physical activity.
Fitness Component
[2:06] Also, just like in person during the warm-up, virtually my lesson sequences is also to teach the health components of fitness and give my students the why, behind each activity and everything that we do. So then just like in person, virtually after the warm-up, I'll have my students enter their workouts and activities in their weekly activity logs so they can assess their Standard 5 abilities and self-monitoring their activity and valuing what they just did for the enjoyment and personal health.
Daily Objective
[2:42] After the ignite and warm-up activity, my virtual lessons also consists of a do now through the use of a Google Form or a Pear Deck slide that I just want to get my student's current understanding of what the daily objective is. From the do now, I'll always go over the daily objective and elaborate on it to make sure students understand what we're doing, how we're doing it, but most importantly, why we're doing it.
Independent Work Time
[3:13] Then from there, just like we're in the gymnasium, I'm gonna give my students independent work time just like I am using the gradual release model. Now virtually I've really found it beneficial to where I assign all of my students an individual breakout room, and the reason I do that is so students can click the ask for help button on the bottom, and that prompts me the teacher, to enter their breakout room so I can talk to them privately or answer any questions that they may have. I found this beneficial because a lot of my students don't like opening up or asking questions with all of their other classmates live in their room. So this allows me, the teacher to connect with students more, one on one and individually, and also allows me to pop into each room to make sure students understand what they're doing and are currently engaged.
Exit Ticket
[4:12] And then before I wrap up each one of my lessons, I'll always have an exit ticket for my students to answer also through the use of a Google Form or a Pear Deck slide and usually my exit tickets are one or no more than two questions about whatever fitness topic we discussed or whatever health assignment they either worked on that day or for the week.