Rock climbing holds a special place in our hearts. We believe that the thrill of scaling heights and pushing personal boundaries should be accessible to all, including students with special needs and unique adaptations. I have about twenty special needs students. Our adapted students have a wide variety of personal challenges ranging from non-verbal autism, Down Syndrome, Wheelchair-bound, and OHI's. Some of my students are non-verbal and fearless, while others appear visibly shaken with fear.
Rock Climbing is for Everyone!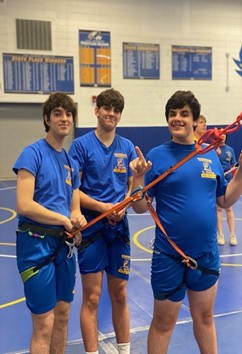 Rock climbing IS for everyone, and I want nothing more than to provide that same opportunity for those students with special needs and adaptations.
We are blessed to have a rock-climbing wall that is 28 feet tall and has numerous runs for students to explore. On the opposite wall is a 40-foot traversing wall.
Our adapted PE program (THE PEOPEL PROGRAM, (Positive, Effective, Outcomes, Peers, Enhancing, Lives)) will have a three-week unit on our wall learning to traverse and eventually climb. All students have needs, but for our students, multiple accommodations must be made to ensure safety and more importantly, SUCCESS!
Within our PEOPEL program, we have twenty to twenty-five special needs students (depending on the hour) and another twenty to twenty-five mainstreamed students called, Tutors. Our tutors are trained throughout the first semester to work with our students and create an environment that is led by modeling appropriate behavior (positive peer pressure). Our goal of the three-week unit is to get every student involved in one way or another. Obviously, we would like them all to go up, but medical restrictions challenge us to be more creative.
Josh's Story: Climbing Beyond Limitations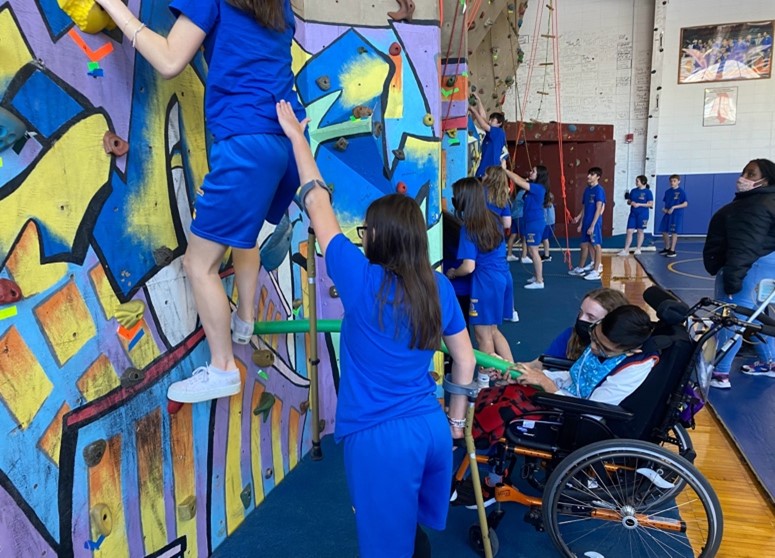 Let me share a quick story about a student named Josh. Josh is in a chair and has lost his ability to stand and some motor functions such as lifting with his arms and core strength. Josh's verbal communication is low (he speaks quietly) and he has a nurse with him at all times for safety. He is fed through his feeding tube while class is in session. His schedule is so tight, but he refuses to miss any time in PE. He may lack in some physical areas but he is very successful in many others like his ability to push farther than any person I know, his appreciation for friendships, and a smile as bright as the sun.
Josh is able to participate in class due to the belaying system we use and the help of our amazing student tutors. For the past few years, we have trained our tutors to use the Australian backup belay. This is where 2-3 students will harness up and use their body weight to support the weight of the climber on the wall. This system has helped all our students be a part of our climbing community. Below you will find some accommodations we have made as well as the benefits climbing has had on our students.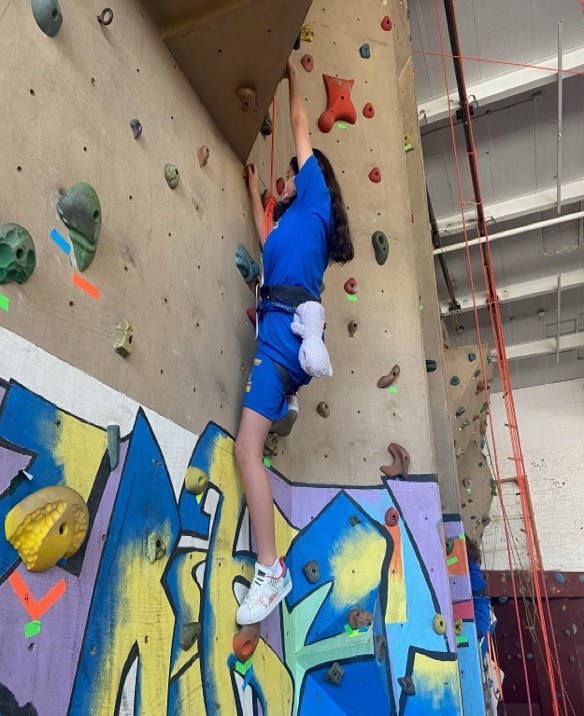 We begin with traversing the wall. You may ask, how does a student who can not leave his chair participate? Our students in chairs and those with low motor skills will be in charge of creating a "challenge" for our traverser.

Hold a pool noodle for the climber to go above or below
Hold a hula hoop for the climber to go through
Choose a color for the traverser and that color is the only hold they may use, The student in the chair will hold up their choice color with a colored scarf.
After traversing we will move on to climbing. We will teach each student to harness up. This in itself is a skill. The students are challenged with balance and coordination. They must learn how to tighten the leg loops as well as the waist belt. These fine motor skills will test their patience as well as take them out of their comfort zones.
From there it is time to go up. We want all students to participate but give them a choice depending on their comfort level. Most of our belay team consists of two tutors and one student. Here they learn climbing commands and the process begins.
With the help of our belay team, we are able to assist the students on the wall and help lift them up to climb

As the climber moves up the wall our belay theme walks backwards to to support their weight. If the climber needs a break our team can simply stand there and let the student hang or I like to call it float.
For some of our students going up may not be an option at all. This can be due to fear, slow processing skills, or low motor ability. In this case, we like to connect the students and lift them off the floor. For some of our autistic students they will float off the ground and we will allow them to use their feet to push and swing. They love the feeling of the weightlessness and the repetitive motion of the swinging.
For our chair students who can not be removed from their chairs, we will have them connect to the back of a belayer harness and give them the role of assisting the belay team.
Other Success Stories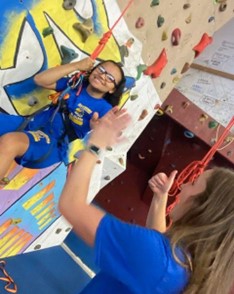 We have been able to assist students to climb to the top and give the student a boost of accomplishment and success. A student named Cali was born with Cerebral Palsy and struggled to pull her way to the top. Our crew was determined to see her succeed and teamed up to lift her to the top of the wall. When she achieved her goal, she screamed at the top of her lungs as tears rolled down her face.
Ryan just wanted to wear the harness and touch the wall. He would stand and hold the wall with his arms held up high. He would jump with excitement and ask for everyone to watch him.
One of our students climbed into the following class hour because she was determined to make it to the top. She was patient and persistent. She even strapped her favorite stuffed animal into her harness and brought him along for the ride.There are far more success stories that I can list.
The bottom line is, that these are all kids and should be given the same opportunity in schools as their classmates.