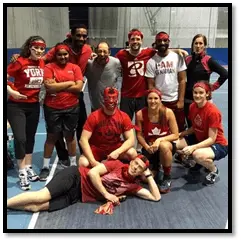 Over the past decade in teacher education, I have evolved my practice to support student teachers to teach Health and Physical Education globally in various school contexts. Whether it be the demographics of a school community, the economic disparities of the surrounding communities, or various educational policies and practices that are supported at the school or board level, a question that remains to transcend any school context is this…
"What conditions are necessary for young people to thrive in Physical Education?"
In my first class, I ask my student teachers to reflect on their personal experiences in HPE. I ask them to create a human value line in the gymnasium according to whether they had a positive, mediocre, or negative experience; all conditions that impact the degree in which one thrives in PE. From there, I ask my student teachers to "fold the line", partnering up with a peer and share their differing perspectives and experiences in PE.
"My PE experience from grades 1-12 in Canadian schools can be described using two words "sporty" and "disengaging". Students were expected to model the exact same steps as their HPE teacher without being encouraged to inquire and examine through different lens to understand why certain skills, rules and tactics work in certain situations."
"With sports like volleyball, it often resulted in a very short rally with the students who were really good at the sport became quickly bored and the students who were not (like me) became further disengaged with the idea that 'I can't do it'"
This exercise allows student teachers to deconstruct their attitudes towards PE and to think about the "so what" – how will these attitudes inform their understanding about teaching PE?
The Ontario 2015 Health and Physical Education curriculum states "To be effective, instruction must be based on the belief that all students can be successful [thrive] and that learning in health and physical education is important and valuable for all students."
Scott Kretchmar (2006) identified five criteria for meaningful experiences in physical education. These criteria help guide how learning activities might be planned to foster meaningful experiences for all students. Each component is important of itself but are related and can influence one another. The five criteria include:
Social interaction
Fun
Challenge "just right"
Delight
Motor Competence
Personal Relevant Learning (recently added by the LAMPE Learning About Meaningful Experiences in Physical Education project team)
Consider implementing into your PE program non-traditional North American sports such as Tchoukball, Omnikin, Speedball, and Danish Longball. These novel-type games can foster meaningful experiences in PE as they:
Provide new experiences for students while equalizing the playing field for all levels of ability
Provide opportunities for positive social interaction to develop interpersonal skills easily translated into other aspects of their lives
Develop movement competence with an appropriate level of challenge and promote fun, joyful movement experiences.
Tchoukball: A game with a social conscience
Tchoukball, was invented by Dr. Hermann Brandt in 1968 with a focus on team work, fair play and respect as fundamental components of the game. With no interception and physical contact, students of all abilities, gender, and size can play together regardless of skill differences. Brant, believed "the objective of human physical activities is not to make champions but to make a contribution to building a harmonious society".
Check out this video clip for a very informative overview of Tchoukball using the TGFU approach.
Omnikin: A game with a focus on cooperation
Kin-Ball is a team sport created by a physical education professor, Mario Demers, from Quebec in 1986 and is now played world-wide. This game is unique due to the large ball size and the number of teams that play at once. Matches are played with three teams at once instead of the traditional 1 vs 1. View a rather humorous, yet informative, overview of Kin-Ball.
Speedball: A game with a focus on student self-efficacy
Speedball is a fast-paced game that combines many aspects of other sports. It is a hybrid game of soccer, basketball, and European handball. Students can decide whether they want to strike and receive the ball with their feet or their hands! Play the ball on the ground – play soccer. Play the ball in the air – play European handball. Students can choose the challenge that is just right for them to enjoy and have success in the game. Check out this version of Speedball by CIRA (Canadian Intramural Recreation Association).
Danish Longball: A novel game that promotes decision making as a player and a team player
A bat and ball game founded in Denmark, Danish Longball is a hybrid game of baseball, kickball, cricket, and rounders, with lots of action and little static play. The game involves individual and team responsibilities when introducing students to the realm of striking and fielding games. Learn more about Danish Longball.
I suggest you give these games a try, especially at the beginning of the school year. They can help establish a respectful learning environment, build community, and lay a foundation for meaningful experiences in PE!
"When movement is experienced as joy, it adorns our lives, makes our days go better, and gives us something to look forward to. When movement is joyful and meaningful, it may even inspire us to do things we never thought possible" (Kretchmar, 2008).