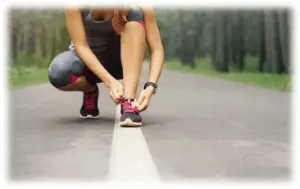 It is never too late to start promoting physical activity and get others to experience the benefits of physical activity, social interaction and their connection to well-being.
I am blessed to have a group of girlfriends who commit to one another three times a week to meet and work out together in our neighborhood, despite the cold temperatures or early hours of the morning. We each come from different experiences, exposures, and opportunities of various physical activity throughout our lives. A common thread that weaves through us in our adult lives as we strive to keep physically active, is not only to reap the health benefits of increased cardiovascular fitness, muscular strength, muscular endurance, and flexibility, but to experience the emotional and cognitive benefits as well. Developing a strong mind and body to cope with life's challenges and stresses leaves us feeling good about ourselves and ready to take on each day after every workout.
Being the Health and Physical Educator among the group, I share my knowledge of proper execution of fundamental movement patterns – push, pull, squat, carry, and lunge with several exercises that target multi-joint and large muscle group movements using our own body weight, resistance tubing, kettle bells, and free weights. In turn we provide each other with motivation, comradery, and friendship in these early morning training sessions that enhance our mental and physical health, as well as our well-being.
Connecting Physical Education and Well-Being
Ontario has a renewed vision for education that places student well-being as one of the four core goals to ensure students learn and thrive now and in to their future. "All children and students will develop enhanced mental and physical health, a positive sense of self and belonging, and the skills to make positive choices" (Achieving Excellence: A Renewed Vision for Teaching Education in Ontario. 2014, pg. 3) Recognizing that teaching the whole child through physical, cognitive, social and emotional domains, is a responsibility for educators to support through student centered, inclusive, respectful learning environments in Physical Education.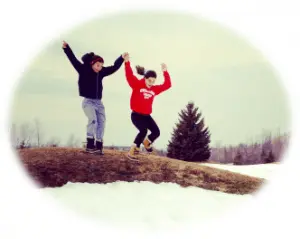 We have seen a cultural shift of Physical Education from a traditional, sport specific focused program to a comprehensive holistic approach to provide students with the knowledge and skills needed to be healthy and active across their lifespan and to be resilient in an ever changing world. With physical literacy and health literacy as an outcome of the Ontario's Health and Physical Education program, students can engage and take part in a program that shifts from disease prevention to more health promotion.
Simple Strategies to Promote Physical Activity and Student Well-Being in Physical Education:
Purposeful Instruction – Make explicit connections between physical, cognitive and affective domains for students through simple questioning throughout the class or as a consolidation activity at the end of the class. This allows students to develop "self awareness and self monitoring skills to help them understand their strengths and needs, take responsibility for their actions, recognize sources of stress, and monitor their own progress, as they participate in physical activities, develop movement competence and acquire knowledge and skills related to active living" (Ontario Health and Physical Education grades 1-8. 2015, pg. 98)These personal skills, part of living skills, in the Ontario HPE curriculum are integrated with the other curriculum components: Active Living, Movement Competence, and Healthy Living and can help students develop a positive sense of self and overall healthy development.

Promote Physical Activity as a Positive Experience – Consider how you present the notion of physical activity in your PE class. Too often in the past, physical activity has been used as punishment in PE class as opposed to a positive healthy experience as seen here in the film, Mr. Woodcock, that perpetuates societal negative views of "gym class".
One effective strategy I like to use to promote physical activity is a "Victory Lap" around the gym or field as a positive way to have students celebrate a completed task.
Maximize Participation – think outside the box for program planning and use of facilities to maximize active participation. Move more sit less. Get rid of elimination games. Implement small sided games such as 3 vs 3 or 4 vs 4 to maximize opportunities for increased movement competence, confidence, and enjoyment.Here is a story of how Katie Ansell, an elementary PE teacher in Ontario, changed her practice after watching the Thompson Educational Publishing Huddle Connect Webinar on Self-Regulation and Learning that focuses on physical activity and mental health and well-being.


Moving Entries – "Instead of sitting and waiting for instructions, as soon as kids enter the gym, they choose to skip, gallop, etc. around the gym, or do a fitness activity in the middle)", remarked Katie.
Moving Timeouts and Reset Activities

– When students misbehaved or were unable to adhere to class rules or expectations in Katie's PE class, instead of the typical "timeout" sitting on the bench – students participate in a "moving time out" by completing a number of repetitions of their favorite activity in any safe space in the gym (e.g., jumping jacks, squats, dance moves). "

If the behavior continues, they then do a reset activity where I give them a choice of independent fitness activities they can do until they're ready to re-join the group. So far it's working well!

" shared Katie.

Relaxing Wrap-Ups – Katie helps kids learn strategies that reduce stress and anxiety that helps them to relax while being still, with a variety of deep breathing exercises at the end of most classes. "…this week I've been telling all the primary kids there's happiness all around them; they have to squat down, scoop up as much happiness as they can, then inhale deeply as they stand up to breathe in all the happiness. We do it several times and then after the deep breath, they exhale hard as they throw their arms out to share all the happiness with the rest of the world…They love it", comments Katie.

Finally, think about taking your PE classes outside more and allow students to interact with one another in various environments. A breath of fresh air can do wonders for our mind, body and soul!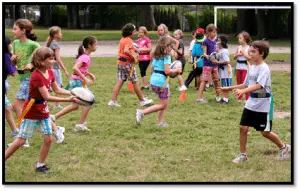 Summary
My girlfriends and I are looking forward to the warmer months ahead when we can start to take up tennis as our next part of our physical literacy journey and continue to move more in 2016! What teaching strategies do you use to promote physical activity and student well-being in physical education?