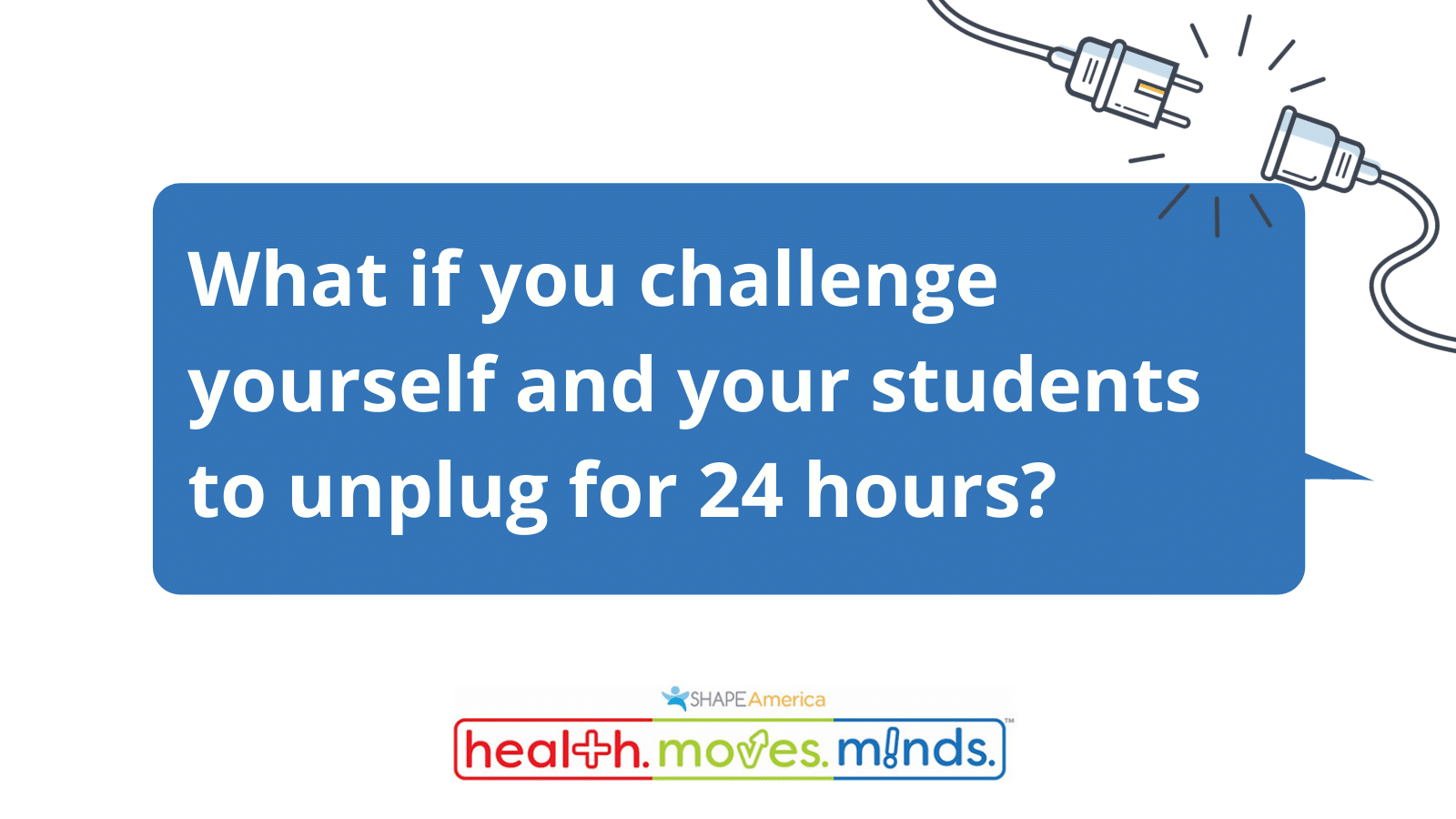 [0:02] Technology is a major part of our lives and the lives of our students. What if you challenge yourself and your students to unplug for 24 hours? On today's PE Express podcast, I'm going to share with you an unplugging challenge to get your students to step out of their comfort zone.
[0:35] Hi I'm Michelle Carter, director of educational content and programs at SHAPE America. I'm here to talk with you about the unplugguing challenge. We spend so much time on our phones, we browse social media, look up recipes, read articles, find lesson ideas, in fact, you might be listening to this podcast on your phone. But what if you challenge yourself and your students to unplug?
[0:58] The official National Day of Unplugging is the first weekend of March, but you can do an unplugging challenge any time of the year. The unplugging challenge is a 24-hour break from technology and that includes phones, computers and TV.
Free Resources to Challenge you and your Students!
[1:12] If you decide to take the unplugging challenge as an individual or you think this would be a great challenge for your students SHAPE America is here to help you. First, we have an unplugging challenge packet that will help you plan out your day of unplugging because remember, a lot of times we're used to using our phone as a crutch. When we find a recipe, we look it up and have our phones right next to us when we're cooking or anything like that – an exercise routine. So we have a template of tips, activity ideas, a to-do list template, a planner sheet, and even reflection questions. We really want to get you to think about how you felt during your 24 hours of freedom from technology. This is a great resource to share with your students, colleagues, and friends to get them in on the challenge.
Mini-Lessons for Secondary Students
[1:55] Second, we have high school mini-lessons that are a great lead-up to the unplugging challenge. Specifically, we have two mindfulness many lessons focused on students analyzing their cellphone use. It's two parts and will really get your students thinking about how much time they actually spend on their cell phones. It might even be an eye-opener for you too. And if you're a middle school teacher, do not worry. These many lessons can be easily adapted for younger kids, too.
Empower Students to Live Their Best Life with health. moves. minds.
[2:20] Why are we challenging students and adults to unplug? Well the answer is simple. Health. moves. minds. is a service-learning program rooted in social and emotional learning with a specific focus on teaching the importance of being kind and being mindful. We want to empower students to advocate for themselves and the health of others and provide students with the skills necessary to make healthy choices related to their physical and emotional wellness. So really simply put, we want kids to live their best and healthiest lives.
[2:53] The unplugging challenge along with our health and PE lessons for grades K-12 and additional resources all reinforce these messages to students and oftentimes we find that students really resonate with the content and objectives of each lesson and activity.
Grow Your Program with an Unplugged Challenge
[3:10] Health. moves. minds. does have an optional fundraising piece to really make a stronger impact towards school-wide wellness and the broader community. Hosting an unplugging challenge is a great fundraising event to help grow your health and PE program or support a local charity of your choice and the best part is, all these resources I talked about today are free by visiting healthmovesminds.org. If you click on the educate button, then click on additional resources, you'll find them all there. You can also register to get access to all of our K-12 Health in PE lessons and don't worry, registering isn't committing you to anything. So thank you all for listening to this PE Express podcast. Before I sign off, I want to ask you, do you dare to unplug?