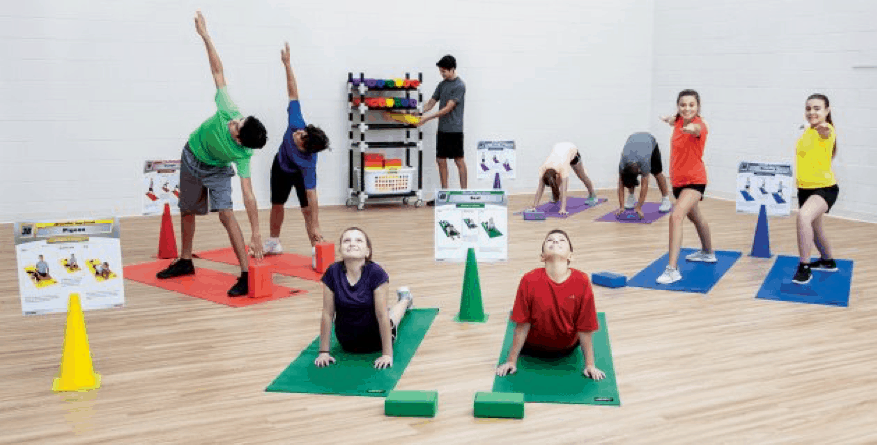 Incorporating yoga in my physical education curriculum has enhanced my ability to teach students about flexibility, stress management, and mindfulness. It is an excellent addition to any program, and students really enjoy it. Yoga is a great lifetime activity that can help students learn to deal with stress, improve their mood, and increase fitness levels which helps them lead healthier, happier lives. When I first started teaching yoga, I was unsure of how to plan the unit activity progressions and format lessons. Here are some of my favorite resources to get you started!
Yoga Unit Activity Progression:
Teacher-led yoga activities
Circuit yoga activities
Student-led yoga activities
Partner yoga activities
Technology-led yoga activities
Teacher-led Yoga Activities:
I feel students participate better when a teacher is modeling and leading yoga activities to start the unit. Take classes at a local gym to get more comfortable and try yoga app workouts to learn more about cues, breathing techniques, safety considerations, and a flow of poses.
Use a variety of yoga resources such as yoga cards, circuit cards, exercises from yoga posters, and Yoga Spots to help you lead several mini sessions.
Break up the sessions into themes and styles of poses: Floor, Balance, Twist, Bends, Strength, Lying Down, Back Bends, and Standing.
Teach a Sun Salutation series and other flow workouts. I used an example from the article Harvesting Harmony: Mindfulness in Physical Education, by Shannon C. Mulhearn, Pamela Hodges Kulinna, and Kent A. Lorenz inthe Journal of Physical Education, Recreation & Dance (July, 2017). It's straightforward and something students can memorize to use every day.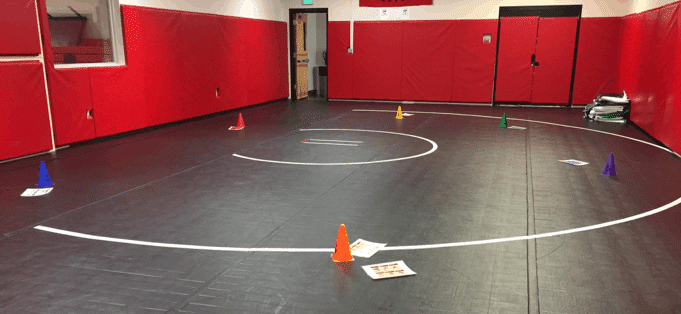 Circuit or Station Yoga Activities:
Single pose stations: Determine the number of stations needed (2 to 4 students per station) and print a single yoga pose on a sign, use a poster, or a Yoga Dotz floor spot. 1 pose per station for at least 60 seconds. This allows time to read the cues and try it out, especially for poses that use both sides of the body.
Multi-pose station circuit: I place multiple yoga poses at a station by rainbow color theme. Blue cone and blue cards = balance poses. Red = twisting. Orange = floor poses, etc. I disperse students among the cones (whether a circle or straight-line formatted circuit) and they work together to try out these poses for approximately 5-7 minutes before rotating to a new cone station.
Rainbow UltraFit CircuitPro Yoga Pack: I love how I can use this versatile pack for any of the suggested yoga activities, and it comes with an excellent teacher's guide. Rotate student groups through the different circuit cards. Each card has a good 3-step breakdown of how to properly perform the pose. The Rainbow color coding is a huge bonus because it helps with creating teams, management, and grouping and allows for integrating nutrition themes.
Student-led Yoga Activities
Team Presentations: In small groups of 2 to 4 (depending on how many presentations you have time to allow for), each student selects (or draws from a selection) at least 2 poses to learn and teach. The team decides what order to teach them in. Teams practice their workout, including how to cue the pose – emphasizing proper breathing and technique. Create a rubric for the presentation so students understand your expectations. Teams then take turns presenting to the class. You can have students peer review presentations as well.
Small Group Workouts: Using the same idea as the team presentations above, instead of presenting to the entire class, the small groups can lead their mini-yoga sessions concurrently all throughout the classroom. As the teacher, you can roam around and visit the sessions and supervise.
Student Leaders: When students are in a group at a station with multiple poses, they each take turns teaching exercises. This format provides more student ownership. For example, during the Rainbow Yoga Circuit mentioned above, I have students take turns leading the poses. One person leads, the rest follow. Rotate to next leader and so on until it is time to move to a new station.
Partner-based Yoga Activities
I enjoy using the partner poses from the Yoga Pretzels cards. These are simple, low-risk partner balance poses. These are fun for students to try, provide a different nuance to flexibility training, and provide a positive way for students to interact and connect with each other. Students can work with the same partner each pose or rotate to a new partner each pose. I demonstrate each pose with a student and then have the students try them.
Technology-based Yoga Activities:
Two favorite app resources are Yoga Studio and Balance It. Use Yoga Studio to expose students to a yoga class format and flow of poses. It also demonstrates what a good app is like for yoga training.
The Balance It app by the PE Geek, Jarrod Robinson, has balances of two, three, four, and large group poses for group challenges. These emphasize teamwork, trust, strength, flexibility and fun. I have used this app with my family on vacations with the little kids for a challenge activity. We all laugh and have a good time trying to create the poses. It is fun for the whole family or for your classroom!
Yoga Lesson Outline Example (*30-minutes):
Opening Bell Ringer (2 min)

'Walk & Talk' with partner/neighbors around space. Groups of 2 to 3.
Topics ideas: stress management, relaxation, flexibility, FITT principle.

Lesson Intro: (3 min)

Debrief and sharing about walk & talk to set the scene.
Go over today's Learning Targets and link to walk and talk.
Overview of today's yoga session and mindfulness emphasis.

Yoga Warm-Up Game or Activity options: (5 min)

Challenge, connect and engage students
Mini-activity, Game or Personal Challenge

Yoga/Flexibility workout options: (15 min)

Yoga workout with theme (flexibility, balance, flow, sun salutation, strength, combination)
Flexibility, Balance & Core Training
Project-based: Design-your-own workout, student presentations, etc.

Closure, Mindfulness and Relaxation Time (5 min)

Debrief learning targets (think-pair-share, partner talk)
Personal goal setting and home application
Infuse mindfulness practices and provide students some relaxation time. Gopher's Mindfulness Banners are a great start to teach mindful sitting, breathing, listening, and how to do a calming body scan.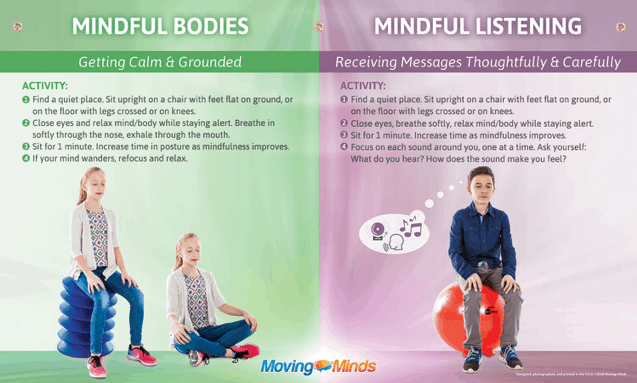 For more on tips and resources on how to incorporate yoga into your physical education program, check out some other Gopher blogs:
Continue the conversation… What are your favorite yoga tips and resources? Share with the PhysEd family in the comment box below or on Twitter! @JessicaShawley @GopherSport #physed #yoga #mindfulness