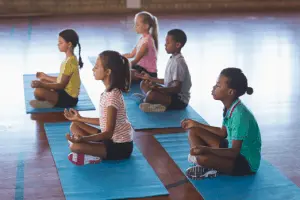 What is a "Downward Dog", "Child's Pose", or "Mountain Pose"? The answer by many would be yoga poses, which is correct. But, what is yoga?
Some would simply define the term "yoga" as stretching. Others would dig a bit deeper and add the mental or spiritual benefit through the physical practice of yoga poses. Regardless, the discipline that originated in ancient India has been around for over 5,000 years and has now become an extremely popular part of a healthy fitness regimen all over the world. In fact, incorporating yoga as part of a quality physical education program is no longer considered a modern practice.
Yoga enriches a physical education curriculum in many ways.
First, yoga is relevant to all ages, skill levels, and diverse cultures
In addition, the discipline is developmentally appropriate and can easily translate from a school environment to a home environment
Furthermore, the practice of yoga builds basic physical fitness (muscle strength, bone strength, balance, flexibility, etc.) and mental wellness
With all of the known benefits of yoga, why wouldn't all physical education teachers currently be incorporating yoga in their curriculum? One defined answer: Yoga is not always easy to teach. Many teachers feel unable to discuss and demonstrate the many poses. The good news is that with our society being immersed in apps, teachers no longer have to feel uncomfortable adding the beneficial practice into lesson plans.
Below is a list of yoga apps that can assist teachers with learning more about yoga and/or providing visual demonstrations for students to follow. Keep in mind, this is a short list and does not include all of the apps available for teachers to consider.
App Name

Quick Details

Cost

Close to 40 poses for children to learn and follow.

$2.99

Series of four 10-minutes videos for children to follow.

$2.99

Aimed for ages 4-8. Visual examples of a variety of poses.

$3.99

Includes storytelling, animation, and video examples.

Free

Easy-to-follow videos in the yoga channel

Free

Provides a kids' yoga journey and
a story of the tale of
yoga's birth.

$4.99

65 ready-made yoga and meditation classes on video. Library of over 280 poses with instructions.

$1.99 +

Description of over 30 poses and 3
preset routines. Upgrades available
to advance.

Free

Great for students to follow for an instant activity or bell work.

Free

Describes a variety of poses and visual examples of how to perform the poses.

Free
* Prices as of 06/17
Although this list is, as mentioned above, just a few of the many yoga apps available, it is a great way to start searching and learning more about how these apps may be able to help incorporate yoga in physical education classes. If there is still uncertainty, it is best to start with a free app and use the app personally to get a better feeling of how to incorporate yoga in the curriculum. Instead of planning an entire lesson around the yoga app, it can be used as an instant activity or a station as part of a fitness lesson until the students demonstrate success and a positive reaction to the content. Regardless, there is a yoga app available for any device, and the content provided can be extremely valuable for a teacher when incorporating yoga in the classroom.