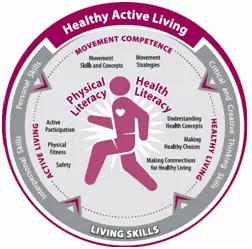 Several years ago, I was fortunate to work on a project with colleagues of mine, on the OASPHE (Ontario Association for the Support of Physical and Health Education) Executive, who share a similar passion and focus for lobbying and advocating for quality programming in HPE.
We explored fitness assessment practices in schools, investigated the research, engaged in intriguing discussions while respecting differing opinions and agreed upon six key messages for fitness assessment. The key messages were to facilitate discussion amongst HPE teachers to reflect and consider how these key messages inform their practice to assess students' fitness.
Fast forward 8 years to the release of the Ontario Health and Physical Education document that positions physical and health literacy as core concepts of our curriculum outcomes for our students to learn, demonstrate, and embody throughout their lives. It can be viewed as one of the largest health intervention strategies the province has even seen.
HPE teachers have a responsibility to ensure that quality PE assessment practices are being implemented to support all of our students' to learn and apply the knowledge and skills necessary to lead healthy active lives – regardless of their abilities, previous exposures and opportunities related to physical activity.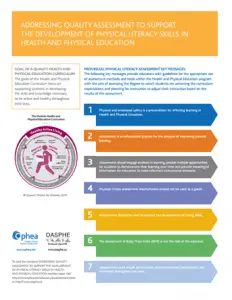 This document stems from the work done previously on the key messages for fitness assessment and provides updated guidelines that include:
– The purpose of assessment and evaluation in a Health and Physical Education context
– The relationship of physical literacy and personal fitness to support students to be physically active throughout their lives
– Key messages to guide educators in selecting PE assessment methods and tools to improve students' learning
Let's Take a Closer Look at some of the key messages and things to consider when planning assessment tasks in PE…
Key Message # 1

suggests assessments be done in a physically- and emotionally-safe environment for increased student success and enjoyment

Key message # 2

points out that assessment is an educational process with the student and teacher working together

Key Message # 3 suggests that educators provide multiple opportunities for students to demonstrate their learning over time
Achieve Quality Assessment with 3 Tools:
PE Assessment Methods: Ensure a variety of assessment methods in which students can demonstrate the expectations of HPE – "say, write, do"… students can communicate it, write about it, and/or perform it. Triangulating the dataing results in more rich and authentic assessment

Example:

Imagine your student, Rebecca, is demonstrating a movement skill, such as a volleyball serve, however, she cannot get it over the net for whatever reason. Perhaps it is an entirely new sport specific movement she has encountered, or she hasn't had enough time to practice the movement skill during the sessions in PE. Despite not being able to make the serve over the net, Rebecca can explain what is needed to get the ball over the net,

"I can apply more force on my forward motion or I need to transfer my weight and follow through more in the direction of my target".

This response demonstrates the student's understanding of the movement concepts and principles necessary to perform the particular movement skill and with practice in a fun and enjoyable learning environment in PE, application of knowledge will occur, and more importantly the development of physical literacy skills.

PE Assessment Tools:

Use a variety of assessment tools to provide many opportunities for assessment; "for" (teacher and peer feedback), "as" (self-assessment) and "of" (judge/evaluate) learning. With increased opportunities to learn, practice and demonstrate students will develop the desire, ability and confidence in their acquisition of a variety of movement skills, concepts and strategies thereby developing physical literacy. ​



Assessment tools can range from

Rubrics

to

Checklists

with clear student friendly language. Remember to co-construct the success criteria for active participation with your students so they can understand and apply these skills on a daily basis. Check out my previous blog on co-construction of success criteria for active participation,

How to Teach Life Skills through Physical Education.

Consider conferencing with your students periodically to check for understanding and help students be more aware and self-monitor/self-regulate their own learning and progress.

Choice: Provide choice for students to develop their physical literacy

as a foundation for programming and assessment. Learning spaces in HPE, whether in the gym or classroom, need to be inclusive, safe, and respectful of diversity in order for all students to thrive. Teachers can be culturally relevant and responsive to student needs and allow choice in assessment practices. The Ontario curriculum does not state that students perform a particular movement skill, such as cradling a ball in lacrosse; however, students will perform movement skills and apply movement concepts in a variety of physical activities.

Example:When program planning, consider usuing the Teacher Games for Understanding model to teach movement skills, concepts, and strategies for grades 4-12.

In grades 7-9, plan a 3-week outdoor territorial games unit in the fall and expose students to 4 days of lead up games to soccer, lacrosse, ultimate Frisbee, and flag rugby or football. At the end of the unit, allow the students to choose a sending, receiving, or carrying skill that they feel confident demonstrating. This provides opportunities for students to improve their skills and helps them make connections of transferable movement skills and game strategies from one sport or physical activity to th enext, contributing to increased confidence, competence, and moveitvation, which equates to physical literacy.
At the elementary level, plan a variety of opportunities throughout the year for the students to practice movement exploration skills, such as sending skills, with a focus on aim and accuracy using different size implements and targets, as well as in various environments.
Using stations/circuits can create a physically- and emotionally- safe environment, as students are not publically on display or assessed in front of their peers, connecting back to Key Message # 1.
For more information on quality PE assessment resources check out the following:
​Continuing the Conversation:
Which key message resonates with your practice? Which key message would you like to build upon more this term?