One game-changing piece of technology related to fitness that I have been fortunate enough to use in my teaching is heart rate monitors. In my experience, the introduction of heart rate monitors in my classes provided a tangible way for my students to make better cognitive connections to fitness concepts and principles, as well as a way to elicit more engagement from my students. While heart rate monitors are a great tool, barriers to their use are still prevalent in many teaching situations. One such barrier that I often hear from other PE teachers is the management of such technology. In this blog, I hope to share some ways that you can set your students up for success while using forearm-based optical heart rate monitors through the use of some tried-and-true management strategies from the trenches!
1. Be Conscious About Cleaning:
Different versions of forearm-based optical heart rate monitors exist. Some are all in one piece (i.e. sensor and strap in one) while others have sensors that are independent of their straps. Each of these types of heart rate systems have unique needs.
All-in-one heart rate monitors are often easier to manage than other options. They consist of completely non-porous sensors and straps and as such, can be shared between individuals from one class to another as long as they are disinfected between uses.
Heart rate monitors that use Velcro® straps are porous and should not be shared between students. If using a heart rate monitor system with these types of Velcro straps, it is best to purchase a separate strap for each student to negate the risk of germ transmission.
Gopher's Optic Plus (left) is an example of a heart rate monitor that has a sensor and a strap that is all in one piece, while Heart Tech Plus' (right) is an example of a heart rate monitor that has a sensor and strap (Velcro®) that are independent of each other.
2. Hanging Pocket Charts are Your Friend
Being an elementary PE teacher, I have come to love using hanging pocket charts for a variety of different things in my gym. But my favorite use for them is as a storage device for my students' heart rate monitors.
The numbers on the outside of each pocket correspond to the numbered heart rate monitor inside and these number assignments are known by the students so they always get the same one each class. Dividing your heart rate monitors into more than one hanging pocket chart organizer diminishes the "traffic jam" that can occur when having students get them upon their way into the gym and putting them away upon the completion of class.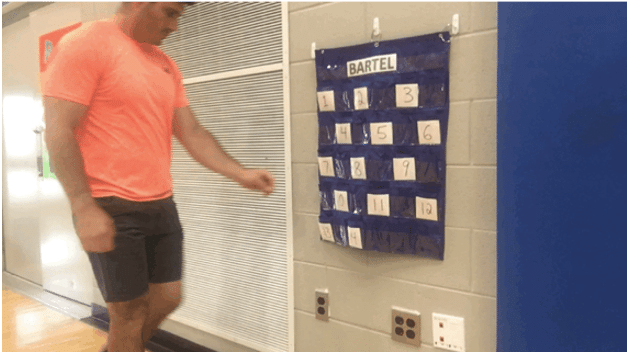 3. Routines, Routines, Routines
While implementing heart rate monitors within PE certainly comes with some time costs, consistent routines at the beginning and end of every class serve as a way to limit the amount of time these processes take. Take the time in the beginning to have students practice coming into the gym and putting their heart rate monitors on and turning them on. Do the same for turning them off, disinfecting them, and putting them away. Model these routines for them and have your students practice them over and over until they can all get it done within a time-bound goal. When first teaching these routines to my students I often used a countdown projected on the wall to give them a visual. By the end of the second day of using the heart rate monitors after practicing these routines, my classes all achieved their goal time in relation to putting them on and taking them off. Below is a video of some of my students in action.
Take the time to teach these routines and set high expectations up front from the beginning or be prepared to lose lots of class time throughout the year.
These tips have served my students and I well over the past few years. Questions? Have your own tips from your experience using heart rate monitors in PE? Please share in the comment section below to keep the conversation going!
Related Content:
– Benefits of Incorporating Heart Rate Monitors into PE
– Why Heart Rate Monitors are Essential for Your PE Class by Derek Severson
– Gopher Optic Video Training Series